Chairman Diary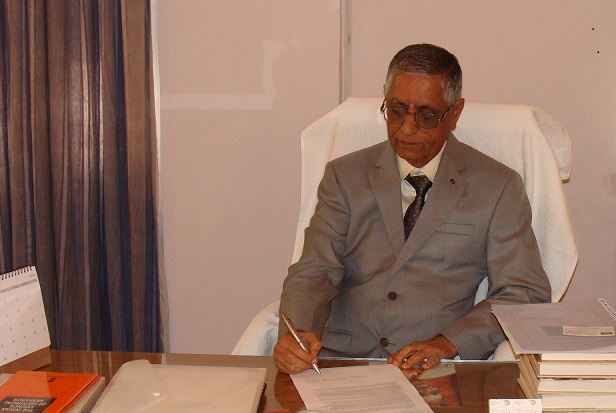 Professor Yellapragada Sudershan Rao
10-06-2017
10th June 2017: A Symposium on the life and thought of Mahamahopadhyaya Dr K Sivananda Murty at Andhra University, Waltair, A.P.
Chairing the first technical session on the theme, the Chairman delivered a talk on Pujya Guruji's historical thought based on Puranas. Some excerpts from his presentation:
"Our traditional knowledge consisting of Vedas, Puranas and Itihasas reveals clearly that there are innumerous Brahmandas involved in cycles of creations in the eternal time if one could see with his 'inner eye' which is uncommon. But, in physical terms, our pursuits should be limited to our own Brahmanda and our own times because an individual's lifetime is limited. …..Guruji also suggests that a historian should limit his studies into antiquity of the present civilization to 10000/12000 years Before Present (BP) on the basis of archaeological finds. Thus, the scope of history is limited to the origin and development of the present civilization while the knowledge of the origin and development of this Universe may be referred as Itihasa for our convenience. …… Both the genres differ in their nature and constitution. The former seems linear to naked eye, but the latter claims to be cyclical. Therefore, the former has a beginning and gradual growth leading to an unknown end which determines that the present has a known past and unknown future. The Itihasa deals with unending cycles, each cycle consisting of numerous historical progressions. History is a short or brief constituent of Itihasa. As a part of the whole, history shares all the characteristics of Itihasa. History is a micro study of macro existence of 'matter-life-consciousness'. Thus, history is a unit ofI tihasa. ….. The western genre has its beginnings in knowing the present through the available information, which had its own limitations and questionable authenticity while the Puranic history or Itihasa is based on the revelations of sages.
Purana is an account of Universe, which is not fixed within a time frame of past, present and future and this qualifies it to have all time relevance. But, history as a micro unit of eternal Time is conditioned by a chronology and subjected to judgment.
Purana defines the aims and objects of historical understanding. It emphasizes on its purpose rather than the chronological projection of facts or events. Purana explains how historical developments move forward to some extent and then backward. The movement looks like oscillating between two ends like a pendulum in a wall clock. Its sojourn is conditioned by Dharma (a typical conduct). The pendulum is supposed to follow the path of Dharma while its forward movement is understood as its rise and retreat as its decline but it should always stay put on the path of Dharma. The pendulum movement between rise and decline is of course not real but apparent. If one sees from a distance a ball moving round and round (in 360 degrees) horizontally hanging to a hook, its movement looks like an oscillation of a pendulum. As all heavenly bodies in a solar system are going round of a 'center', Itihasa is also cyclical in its movement, but the events and developments seem to be oscillating between two extremes though in short spells of history, the path appears linear (180 degrees). …
In the past two or three centuries, many theories are proposed by the Western scholars on the path of historical developments. Some understood it as cyclical or repetitive or linear or a hyperbole. These theories are well thought of by the modern thinkers. Bharatiya knowledge does not reject it but understands that these intellectual theories are the deions of the Truth from their own standpoints, which are complimentary to the macro understanding i.e., Itihasa. The paths they perceived can be substantiated by the limited and short history of the known past. The present genre of History like a torchlight can show us the way in darkness but cannot illuminate the entire path that we propose to trek. But torchlight with all its limitations is capable to lead us safely to the destination in darkness. Puranic knowledge of the history of Universe is quite comprehensive and all-inclusive while true history, a micro-constituent of it, can also lead us to reach the goal of our existence on this planet as humans. Thus, being the most popular ancient Indian knowledge system, the study of Puranic history rightly enjoys the status of a spiritual pursuit.
02-05-2017
2nd May 2017 Two-week National workshop on "Epigraphy and Manuology
2nd May 2017 Two-week National workshop on "Epigraphy and Manuology" organized by the Deccan College, Pune in collaboration with the WRC of ICHR, Pune.
Chairman addressed the inaugural session of the national workshop to impress upon the need of building up talent and improvising skills in the young scholars in the fields of various of sub-disciplines of archaeology like epigraphy, numismatics, art, iconography, architecture, under-water archeology etc. He said that the scholars should not only be trained in the technicalities of these, but also on the philosophical aspects and base of these specialties. He said that Bharat vignan is very rich in providing thematic background along with the science of these special subjects. These workshops by ICHR on Art history, under water archaeology, epigraphy etc. are planned and conducted at national level inviting eminent and senior scholars in these specialties as the number of scholars in these fields are dwindling year after the year. He further cautioned that epigraphy or interpreting an artifact or a piece of art should not be attempted quite casually as mere objects of the past but they should be studied using the available literary sources on the subject. He said, India is endowed with profound knowledge on any branch of knowledge. They should not be written off with the view that they are later texts. We might be getting the copies of such sastras written subsequently at later times because most of studies were bbased on oral narration in ancient times. In epigraphy, and language have to be learnt before one attempts to read an inion. While ing the proposition of the Coordinator, he wished to add one more aspect to it saying that the philosophy or theme of it should also be kept in view while giving its meaning. He said even the spoken language the ancients used code for transmitting some strategic and secret information in public place. He gave some examples from ancient literature. Such oral codes were practiced till as last as medieval times in wars and other secret operations, he said. He said that there is a need to keep up the spirit among the scholars and follow up seminars and two or three-day workshops should be held for the candidate to pursue this knowledge. He congratulated the candidates that they are taking this training from a very well known institution which one of the best in the country.
24-06-2017
24-26 April 2017, EqUIP showcase program at Brussels, Belgium
Chairman ICHR participated in the event at Brusssels as an associate member through the Indian lead partner, ICSSR. The showcase workshop was held on 24th and 25th April, which discussed and evaluated the three year collaborative project closed by March 2017. On 26th, the steering committee of the EqUIP met to finalise the program of the pilot project titled, Sustainability…….
Chairman spoke in the open session on the nature and functioning of collaborative projects under EqUIP-India pilot scheme. He suggested that Europe has always been looking at India since at least 2,500 years BP in the historical period. Since the beginning of historical period, Europe has been writing on India with different motives, purposes and perspectives and in different relationships. The partners of EqUIP are representing their respective sovereign independent nations. Since India is not a member of European Union, Indian partners are not governed by the policies and programs of the EqUIP. So Indian partners may join the EU's India platform only if they feel that the proposed project serves mutual interests. He suggested that EU India platform should think of a paradigm-shift in their outlook towards India.
He said, historically, India has much to look to itself than looking for its impact or otherwise on the rest of the world. It may be the concern of other nations to attempt any assessments. However, exchanges are always welcome among the community of nations. India can be interested in studies like diaspora studies in its bilateral projects.
Further, India as it feels that its literary sources are far scattered in 'Eurasia' as a large chunk of one land mass, India may be certainly interested to map the resource centers for constructing its history. He proposed that the job of locating, cataloging, indexing and accessing the historical records world over has become easier in the digital era, EU can plan to have a resourceful digital Documentation center appealing to its member nations to subscribe to it and provide open access of the resource material to the research scholars working on Indian studies.
On 25th Evening, the Indian Embassy at Brussels gave a warm reception to Indian delegation in the evening and hosted high tea. The Indian delegation was received by Charge d' Affaires and Ms Rakhee, Officer, acquainted us with the activities and programs of Indian diaspora and other cultural exchange programs.
On the afternoon of 26th of April, he visited Ghent University and had long discussions with the faculties of Depts of Archaeology and Modern History. He had a fruitful discussion with Prof. Dr. Jean Bourgeois, Dept of Archaeology on Indian archeology and possibility of having a tie-up project exploring pre-historic connections of different regions from Central Asia down to Indian ocean.
He also had a long discussion with Prof. Dr. Michael Limberger of History Department who is a specialist in the early modern history. He proposed that a joint project could of thought of covering the European contacts with India during 1600-1800 AD which is a crucial period in world history. Various European nations set up their Companies to trade with East and carried to their countries back much of the historical literary sources from India. Their repositories must be having rich collections of travelogues, private papers etc.,
09-12-2016
National Seminar on 150th anniversary of Sister Nivedita as Special Guest organized by Ramakrishna Mission, Vivekananda Centenary College, P.O. Rahara, Kolkata
While narrating the special circumstances of the socio-political milieu during the late 19th century and the first decade of the 20th century, the Chairman said in his inaugural address that the rise of national consciousness could be traced through the work of personalities like Swami Vivekananda who laid a meaningful and purposeful path for reaching West for a respectful intellectual. Sister Nivedita who became his disciple sacrificed her life to the service of our nation. Her divine qualities of service and sacrifice endeared her to all. Chairman said that her contributions shall always be fondly cherished by generations to come.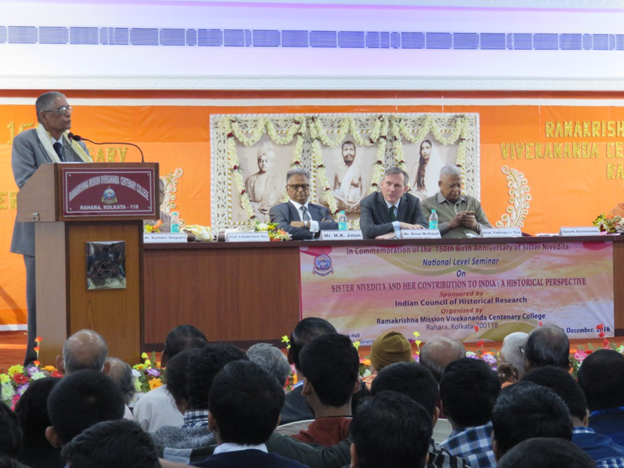 Prof. Rao addressing the gathering at the seminar
1 December 2016: International Seminar on 'Symbolism in Indian Art, Archaeology and Literature' concurrently with National Conference entitled 'Buddhist and Jain Art: Landmarks, Philosophical Background and Social Contributions' (I.A.H.C.-2016) on 1st December 2016 at Deccan College, Post-Graduate and Research Institute, Pune- 4110006: 1 December 2016
While inaugurating the seminar, Professor Y. Sudershan Rao, the Chief Guest, stressed on the need for good knowledge of ancient literature including the Shastras for understanding and interpreting the symbolism as reflected in Indian art and literature. An art historian in India should be equipped with sound knowledge of Shastric literature because Indian art in all its forms is based on scientific theories and practices whether divine or secular. Indian classic art studies need very good training under knowledgeable teachers and practitioners. Apart from Shastric knowledge, the art historians, the Chairman felt, need a through grounding in the Indian, philosophical and religious thought.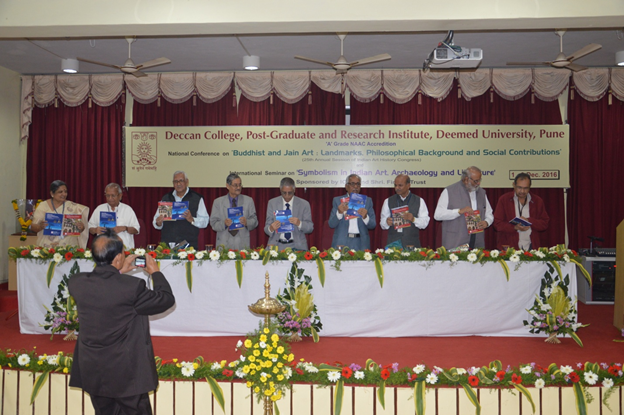 15 October 2016: Chairman's ICHR message for seminar on भारतीय इतिहास के स्रोत एव इतिहास लेखन on 15 -16 October 2016 organized by Akhil Bhartiya Sankalan Yojna and DDU Gorakhpur University, Gorakhpur at Kushinagar (U.P.): 15 October 2016
The Chairman in his message commented that History is now in a a'fix'. Like all social sciences, History has also developed as a discipline by itself in the past two centuries and acquired different shades under the influences of social, political and economic philosophies of the contemporary period. In modem times, the generation gap is shrinking rapidly and the priorities of newer generations are also changing very fast responding to the economic time and political clime. As a consequence, the purposes, objectives, philosophy, methodological techniques of history writing are undergoing radical changes creating new gaffes. It is quite surprising that every new genre is calling all the earlier ones ahistorical, rejecting and reinterpreting the historical sources so as to legitimize their socio-economic-political views. The modern genre of history, losing its earlier status of a judge, is made to stand in the witness box facing baseless accusations. Thus, the contemporary genre of history, in its hot chase for an imagined reality in a mirage, is gasping for breath and losing its spirit.
The modern social science theories have greater impact on history writing. The colonies, which have opened their eyes very late, found it comfortable initially to follow the footsteps of their masters who left their own respective legacies to serve their vested interests on the subjects. Slowly, the intellectuals in the newly emerging nations are struggling to free themselves from this (intellectual) neo-colonialism. In the process, they find themselves in a precarious situation where they get stiff resistance from their own brethren to look into their past truthfully to identify their roots.
29 September 2016: Chairman's ICHR Lecture on 'History & Archaeology – A Dialogue' at Indian Archaeological Society, B-17, Qutab Institutional Area, New Delhi: 27 September 2016
Delivering his speech on 'History & Archaeology- A Dialogue' on the occasion of Prof. D. Devahuti Memorial Lecture, Professor Y. Sudershan Rao threw light on the importance of archaeological facts, remains and relics as they help us in bridging the gap between past and present. Stressing on the need of coordination and exchange of ideas, thoughts and research findings, Prof. Rao said that every historian and archaeologist has his own understanding. Even among the archaeologists, they differ in interpretations. Archaeologists of different nations have different views and understandings because they come from different cultural and psychological backgrounds.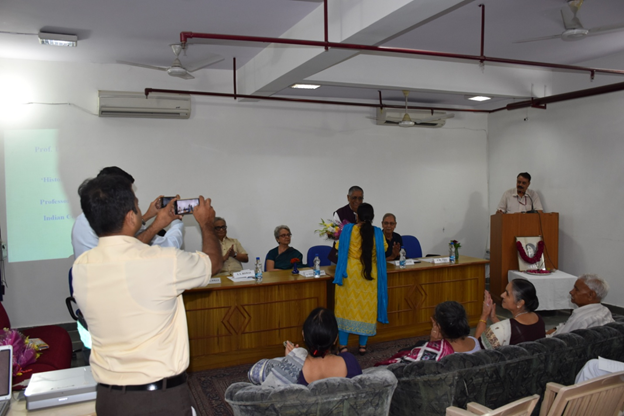 Chairman, ICHR, being accorded a warm welcome at the IAS, New Delhi
According to him, the scientific theories are based on facts and not on the social norms. Earlier when archaeological explorations began in India, the early archaeologists were not scientific archaeologists. They have just started the work and immediately they turned to the literature for collaboration and understanding. The early archaeologists in India found Puranic literature greatly helpful to them.
So, for archaeologists India is akin to heaven because of its rich archaeological and literary sources. We now need a study of India at micro level which shall contribute to enrich our understanding of India at the macro level, he concluded.
19 September 2016: Welcome address of the Chairman's ICHR on the occasion of the 51st German History Congress 2016 (Deutscher Historikertag 2016) at the Joint Session of DFG-ICHR on How to Write a Transnational History? at Hamburg University, Germany
The Chairman in his welcome address said:
"I deem it a great honour done to the Indian historian fraternity in general and to the Indian Council of Historical Research (ICHR), Govt. of India, in particular by asking me to extend a hearty welcome to the distinguished delegates of the Joint Session of the German History Association, here at Hamburg today. I am very much beholden to Prof. Martin Schulze Wessel, the Chairman of this august body, along with the Director of DFG, who have kindly visited ICHR and extended the invitation in person to me. They also invited two members of the Council to take part in this joint session.
The peoples of India and Germany have had similar experiences in making and shaping their respective nations against so many odds emerging out of multi-national or international approaches to their histories despite the fact that both countries are placed in different historical, geographical, political and cultural settings. Perhaps, this feeling of empathy might be one of the reasons that they developed a great affinity between them. They have always been in contact with each other in their historical pursuits.
Indian history, as is known today, is, to a large extent, a product of its colonial phase. German philosophers have looked to the Orient making provisions for alternative but realistic approaches in 19th century to understand the historical developments in Asia in general and India and China in particular. The impact of national resurgence of Germany and India in the post World War II could be found in the bubbling enthusiasm of their historians for shaping the contemporary historiographical trends in both countries. I earnestly hope that this special joint session of the historians from both the countries would address to various aspects arising out of international approaches to their respective national histories.
Since 2013, the DFG and the ICHR have jointly taken up academic programmes like exchanging their distinguished historians to deliver talks and organizing workshops and seminars on historical problems of mutual national interests at various academia and research centers in their countries. Besides these academic exchanges, the ICHR has facilitated the visit of German historians to the annual session of our premier history association, the Indian History Congress. I am sure that in years to come our bond of friendship and mutual cooperation would grow from strength to strength. In this session, a good number of our eminent historians are participating. I thank all the organizing members of German History Association for their kind invitation and sparing no pain to see that our stay here should be very comfortable, enjoyable and academically fruitful.
On this occasion, please let me express our deep sense of gratitude and appreciation to our German historian fraternity and the members of German History Association in particular. I, on behalf of the ICHR and our historian fraternity, request Prof Schulze Wessel, the President of this prestigious organization, to accept this small felicitation as a token of our love for the German fraternity of historians ."
Prof. Y. Sudershan Rao and Prof. Narayan Rao at the German History Congress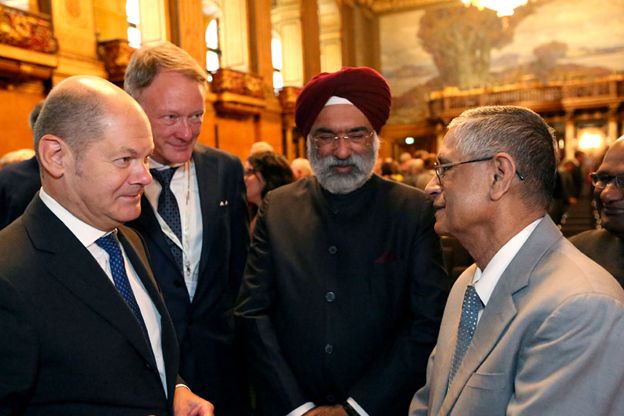 Prof. Y. Sudershan Rao exchanging pleasantries with Mr. Gurjit Singh, Hon'ble Ambassador of India to Germany , Prof. Martin Schulze Wessel, and other dignitaries
20 August 2016: Chairman's message for Seminar on "विषय: इतिहास दृष्टि, इतिहास लेखन एव इतिहास के स्रोत, स्थान: इतिहास विभाग, बनारस हिन्दू विश्वविद्यालय, काशी (उत्तर प्रदेश), organisd by Rashtriya Mahila Itihaskar, Department of History, Benares Hindu University, Varanasi
The Chairman, addressing the women historians at BHU, Varanasi, emphasized the paradigm shift in history writing. He said:
"History writing in India today, in my view, stands at the crossroads leading to several unknown destinations and without any desirable aims or objectives, roughly after seven decades of Indian independence. Despite having a great historical tradition, backed by unparalleled and encyclopedic literature, and philosophy explaining the world and beyond, we were forced to begin using the western format and the English alphabet by the colonial masters from the 18th century onwards. It was a total paradigm shift from the indigenous Indian time-honored dharma based history writing to adopt the Western approach and format, which confines itself only to mundane history.
In Indian tradition, history is simple, direct, objective and instructive. The ancient Hindu enquiry into the past was so deep that it was going to the roots of human existence and also into the unseen governing forces of this universe. The ancients have substantially established that this is not the only creation, but there are several creations co-existing and repeating themselves since times unknown. They found that the creation and transformation were not a one-time affair, but a continuous process. They discovered that each universe has its own governing body and a well laid out hierarchical organizational structure.
The human governance is formed on the principles of universal governance that is Dharma. Therefore, the aim of indigenous Hindu historiography is meant to facilitate man to realize his oneness with the universe by evolving himself on the spiritual sphere. Its objective has been to guide humans to live in harmony with one another and also with the Nature in the mundane world. Its methodology is two-fold – going deeper into himself dwelling on the question (Tapas) and observing the nature and functions of the Nature around. So, Hindu methodology has been dependent on experiencing the 'Self' and also on the participatory observation of the world for understanding the entire phenomenon of existence. It promoted the application of reason to understand the society and the world. Superstition had no place in the higher echelons of literature, knowledge, philosophy and wisdom.
The dawn of reason in Western Europe in the 15th and 16th centuries, which came after thousands of years of human accomplishments in Bharath, gave rise to sensational developments in various fields with the application of science. These developments led the societies to follow uniform pattern in all civilizational aspects of life. These uniform approaches created several contradictions and deep wedges among societies and nations. The scope of history is confined to recent past concerning smaller regions and communities. Further, the social, political and historical theories are evolved with limited and convenient date, which divide and antagonize men. The historiography has become Eurocentric. The histories of European colonies are the worst affected. Even after achieving political freedom, they are still confined to the rigid colonial framework for pursuing their historical studies. For our intellectuals, it has become hard to shed the colonial psyche".
Chairman, Participating as Chief Guest in the National Seminar
3 August 2016: National Seminar on 'Krishna Nadi Parivahaka Pranta Charita (History of Krishna River Basin)' on the eve of Krishan Pushkaralu, organized by Department of Archaeology & Museums, Govt. of Andhra Pradesh, Srisaila Veebhudi Lingeswara Trust, Srisailam
Inaugurating the seminar, the Chairman said:
"Starting from Mahabaleswar in Maharashtra, just 65 kms away from Arabian sea, the river Krishna flows for about 1400 kms through Karnataka and Andhra and meets the Bay of Bengal at Hamsaladeevi (Krishna district). When one looks back for its origin in the Puranas and local legends, the River Krishna is none else than the Lord Vishnu Himself, taking with Him, the other two of the Triumvirate, Lord Siva and Brahma in the form of Venna and Koyna rivulets, as its tributaries.
The Satavahanas, Vishnukundins, Chalukyas, Kakatiyas, Qutb Shahis, Vijayanagara and Asafjahi dynasties built powerful kingdoms in the upper Krishna basin and their authority extended down the lower basin as the Krishna river waters flow down the stream.
Each river has its own account of collective human experience gathered in constantly changing socio-political-cultural milieus of its basin to convey to us. For example, Great River Saraswati has given the fund of Vedic knowledge, the river systems of Sind and the Ganges have given us Itihasas and Puranas. Each river has its own unique contribution to the Bhartiya culture which is itself unique in the world cultures. Perhaps this may be the reason that a dip in the holy river with reverence gives us great merit. Our ancients have recognised 12 holy rivers having great histories of civilisations and cultures developed in their valleys and ask us to have a dip in these rivers at least once in the year of its completion of 12-year cycle (pushkara). The Hindus revere these rivers by invoking the waters of these rivers in the holy pots (kalashams) in all their daily or occasional (nitya and naimittika) religious rituals."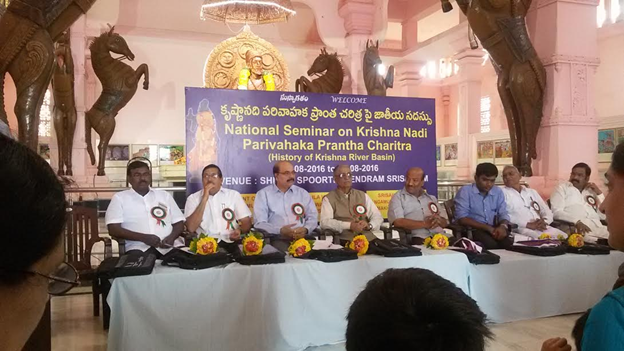 Chairman, ICHR, participating in the National Seminar at Srisailam
09-01-2016
40th Annual Session of AP History Congress (APHC) at Govt. Women's College, Srikakulam.
Brief Summary
While inaugurating the annual session of the APHC, the Chairman spoke about the significance of the regional and micro-level studies to enrich the macro or national history. During the freedom struggle there was a spurt in research activity. Mostly writers and poets took up the task of writing popular series of books on various events and personalities to carry message of the historical heritage of this nation to the knowledge of common man to inspire him to take active part in the struggle.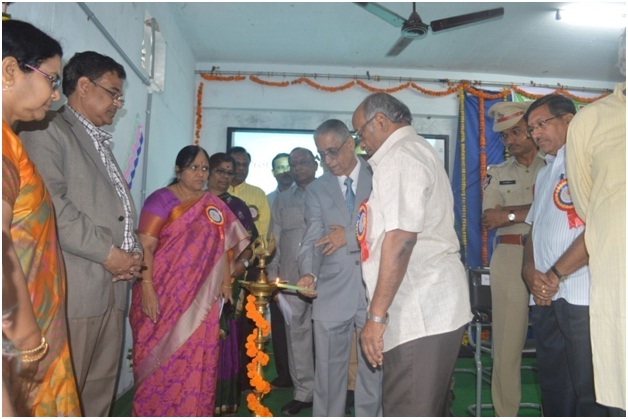 Hon'ble Chairman igniting the traditional lamp to mark the inauguration of APHC
Further, they effectively applied the folk theatric art forms to reach the unlettered Indian masses. Many historic heroic deeds were dramatized to inspire people. Even in the intellectual circles, literary works were brought out on the elitist culture and ancient sciences and history of ancient civilization with the purpose of igniting in them the patriotic spirit and fervour so that they could become informed leaders in the struggle. Over the last three decades or so, after the attainment of Independence, regional history has come to occupy an important place among professional historians. Many areas in history that were hitherto neglected began to receive attention; besides many themes and different perspectives have also been developed. Now junior scholars in various universities are studying micro areas in their regions leaving no area, both historical and geographical, uncovered.
At the same time, however, the Chairman emphasized that new scholars should not ignore the works of historians of earlier generations in bringing out their contributions to historical studies. In cases where further examination is necessary for authentication, they should revisit them and establish the 'truth', because 'truth' should be the aim of historical research and perspectives should not come in the way of establishing the 'truth'.
08-01-2016
Two-day National Seminar on "Iconography of the Hindus, Buddhists and Jains", at CPR Institute of Indological Research, Chennai.
Brief Summary:
In his inaugural address, the Chairman gave the following message. "Art history is history with a difference. While the modern genre of history is considered more of a science dealing with the material world, Art history takes one to abstract heights, into a different realm. Art history is the finest amalgam of both science and art. Among various forms of art, iconography needs a special mention. An 'icon' is a clear symbol of a concept or a phenomenon".
Especially Hindu iconography has evolved purely out of the cosmological, philosophical and metaphysical knowledge that has emerged from the Vedas. Therefore, Hindu iconology is considered Veda (the knowledge) by itself. The Veda in a literal form gives a graphic deion of the cosmic phenomenon whereas the iconography presents a visual deion of the same phenomenon. Iconography is thus meant to convey the abstract, subjective truths realized by a philosopher or Rishi, to the common man. Thus, Hindu iconography from time immemorial has been inseparably associated with the spiritual pursuit and elevation of the people in this culture.
In India, the earliest icons, dating back to five millennia, clearly convey such philosophical and metaphysical concepts. The images of the Yogi and the Dancing Girl from Harappan times reveal the secret of their transcending link with spirituality. Vedic background of Hindu iconology is quite evident in the development of the science of Art in the later phase of the Vedic period. The figurines of gods and goddesses in metal or stone are designed according to the dhyana slokas adopted from the Veda. The dhyana slokas are literary deions of the godheads. Thus, Hindu icons are not idols or mere art pieces.
Aesthetics are added to the science of this art, probably after Harappan times, to please the eye as the civilization matured. The relevant sastras, sutras and other scientific literatures came up in the course of time. Considerable scientific and mathematical applications (such as Iconometry) are involved in the making of divine icons as intrinsic as the yagna vedikas according to Vedic injunctions. In Hindu iconology, the base of art is science, which in turn is based on the Vedic knowledge. Its aim is spirituality. This could be found as a general characteristic feature of all Hindu classical forms of Art.
The nature of Indian (Hindu) Art is transcendental, from matter to non-matter. Music, dance, painting, sculpture, poetry etc., are treated equivalent to dhyana, tapas and yoga for realizing the Ultimate. Hindu iconography is placed on a high pedestal among all other forms as a path of realization of the Self not only for the artist but also for those who are attracted to his piece of art and meditate on its form. This has become a popular form of Hindu worship within reach of the common man.
The icon, though in human form, should not be treated as a mere idol. The iconic worship is directed to a cosmic phenomenon. Others may understand this as idol worship. Common practitioners of Hinduism must also be educated to know what icons mean in their religious practices. We need authoritative and simple popular writings to familiarize people with the significance of Hindu Iconography. In this regard, one can cite one such effort by Pandit Rama Ramanuja Achari's recent work, Hindu Iconology (Simha Publications, 2015).
Hindu iconography, besides depicting the tattvas of divine manifestations, includes the symbolic representation of mythological legends like avataras, cosmic phenomenon like Manthan, Puranic stories, events and personalities, etc. In all these depictions, the spiritual underpinning is found prominent. Hindu iconology has influenced the art of later religions like Jainism and Buddhism.
Therefore, the Hindu Art historian shoulders great responsibility while interpreting an icon to the general readership. He has to be well acquainted with the traditional scholarship. John F. Mosteller reiterates the significance of ancient texts for interpreting a piece of art in the Indian context. (Mosteller, 'The Future of Indian Art History', Journal of the American Oriental Society, Vol. 109, No. 4, October - December 1989, pp. 597-602).
Hon'ble Chairman delivering the inaugural address at the CPR Institute, Chennai
06-01-2016
Brief Summary
Birth Centenary celebrations of Komaragiri Venkata Bhupal Rao, former Director, Dept. of Archaeology and Museums, Govt. of Andhra Pradesh, Hyderabad, at Warangal
05-01-2016
ICHR-ISPS International Symposium on 'Econmic History' , hosted and organized by ICHR, IIC complex, New Delhi.
Brief Summary
The following message was sent by the Chairman to be read out in his absence during the inauguration of the International Symposium.
Most distinguished scholars and honorable invitees,
I, on behalf of the Indian Council of Historical Research (ICHR), Govt. of India, and on my personal behalf, extend a hearty and warm welcome to you all for this two-day seminar on economic studies on modern India under the joint collaboration of Japan Society for Promotion of Science ((JSPS) and the ICHR.
Though our countries have been closely connected with each other for centuries with strong cultural ties, the present opening of a new area where we could share our scientific studies on mutually beneficial grounds has begun with the visit of our beloved Prime Minister, Respectable Shri Narendra Modiji, to Japan, a year ago. We thank both the governments for taking the initiative for the academic exchanges between the scholars of two countries on areas of common interest. True to the spirit of friendship between the governments and peoples of our two countries, the JSPS and ICHR have been very active in cooperating with each other in formulating academic programmes ever since we signed an MoU with the guidance of both the governments.
For the ensuing seminar, we chose to exchange views on the economic development in India in the last two centuries, specifically keeping in view the colonial phase of India.
ICHR has been running a major project on the various aspects of this study over the last three years and published seminal documents relating to economic aspects mostly pertaining to the British ruled part of India. The other part of India directly ruled by Princes was known as 'Native India'. We have yet to draw the attention of our economic historians to this mostly unexplored area of study. Whatever economic studies are available on this part of India are meager and deal only with the last phase of our freedom struggle and when the Princes also started adopting the British policies and framework on revenue matters.
India and Japan share common cultural spirit and ethos. The diversity in the cultural and social framework is only apparent. But the type of developments that took place in both the countries since the late 19th century, put them in different ways. Isolated for several centuries, Japan entered a new phase with accelerated growth engines in every aspect of economic development under native rule; India, on the other hand, made slow progress in the economic field under foreign yoke and that too to serve the imperial interests. The early nationalist studies like those of Dadabhaiji and Romesh Chandra Dutt on Indian economy sub-serving the Master Nation do not come under development economics. They were mostly defensive and appealed to the sensibilities of the English rulers. At the same time, some efforts were also in the offing from the alien groups in the infrastructural sectors in India under 'protective mode'.
Even after independence, we gave preference to foreign strategies for economic progress. While Meiji's reforms in Japan were guided by the experience of the 'Have countries', Japan in course of time indigenized the systems to suit the needs of the nation. In a few decades Japan emerged as a mighty force to reckon with among the comity of nations.
We are very hopeful that the seminar would open up new areas for more interaction between the specialists of both countries in the field of science.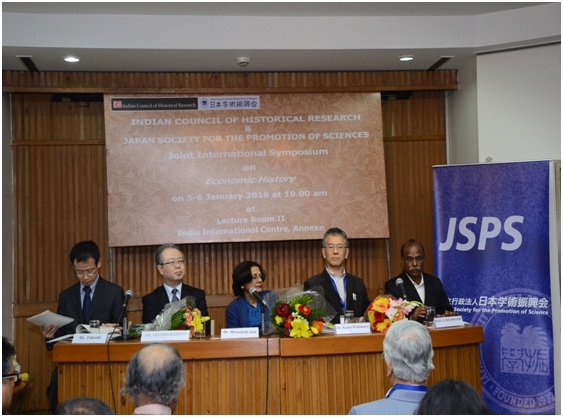 ICHR-JSPS International Symposium in progress at IIC, New Delhi
23-03-2016
Brief Summary
National Seminar on "Socio-Cultural transformation in 20th century South India", Department of Indian History, University of Madras, Chennai
Chairman with the organizers of the seminar at the University of Madras
16-03-2016
Brief Summary
Birth Centenary celebrations of Komaragiri Venkata Bhupal Rao, former Director, Dept. of Archaeology and Museums, Govt. of Andhra Pradesh, Hyderabad, at Warangal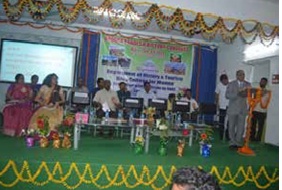 Chairman delivering the inaugural speech at the 40th Session of APHC
25-04-2016
Brief Summary
Annual Day Function of Bhagini Nivedita College, Kair, Delhi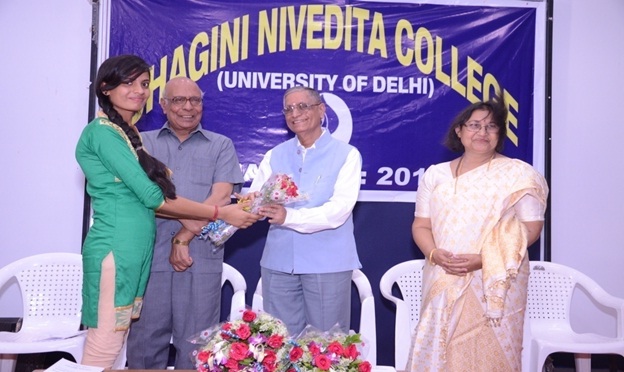 Chairman being presented a bouquet at BNC College
28-05-2016
Symposium on "Dilli ke Eithihasik Sthal", organized by Akhil Bharatiya Itihasik Sankalana Yojana, at Satyawati College, Delhi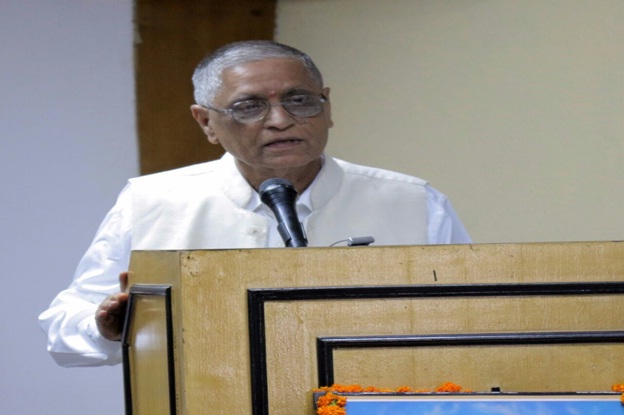 Chairman delivering the inaugural address at Satyawati College
04-06-2016
Seminar on "Dilution of the Nationalist Perception of Indian Revolutionaries of the 20th century in present-day India" organized by Centre for Research in Indo-Bangladesh Relations, at Rama Krishna Mission Institute of Culture, Kolkata
Chairman being accorded a warm welcome at RKM Institute of Culture, Kolkata
07-05-2016
Seminar on "Chauhan Rulers of Sapadlaksha and Ajmer, organized by MDS University, Ajmer
Chairman with other delegates at MDS University, Ajmer
05-12-2015
A Two-day National Seminar on Rayalaseema Identity, Development and Politics from the formation of Andhra State to the partition of Andhra Pradesh at SKR & SKR Govt. College, Kadapa.
Brief Summary
While inaugurating the seminar as the Chief Guest, the Chairman said that it was in the nature of man to crave for an identity, from individual identity to a collective identity based on several aspects like occupation, language, community, tribe, country, religion and creed, etc. Earlier, the identities were preferred on cultural lines. The emergence of democracies have revived the need of maintaining the identities for economic considerations. Economic development of the region had become a major slogan in contemporary politics.
Hon'ble Chairman delivering the inaugural address at Kadapa
The cultural identities have slowly led to class, caste and region identities for a concerted political action. The studies of regional history have gained ground in the post Independence era starting from the role of region in the great struggle for freedom to various other social and political movements.
In the post Independence era, historical research by Indian scholars stepped up. Soon after we achieved Independence, the roles of each region, community and individual in the freedom struggle dominated the theme of researches in the academia and also by independent scholars or groups of scholars. As the liberal democratic system attained stability over the years, economic, social, cultural and art histories came into prominence. This has drawn the attention of historians to regional, local and micro studies. Over the recent years, new areas like gender, trade and commerce, health, education, crime, folklore, etc. took precedence. These paradigm shifts quite often have been creating new genres of history. However, these studies enriched our history and also the understanding of our history.
04-12-2015
Seminar on Secularism- Conceptual and Historical Analysis in Indian Context organized by Pragna Bharati, Tirupati Unit, in the Senate Hall of S V University, Tirupati.
Brief Summary
The Chairman in his keynote address dwelt at length on the conceptual framework of 'Secularism' in the modern context tracing its origin from the Enlightened era in Europe. Since then, reason and logic have obtained precedence over belief and faith in Europe. Despite the growing predominance and influence of reason and logic, religion is enjoying its control over social and political aspects of human life in the world communities that opted for some kind of democratic system.
Being the oldest and continuous civilized community, India offers a different scenario in this field of human activity. India is not committed to one religion or a single stream of religious activity. Its multi belief systems emerged from various philosophies (Darsanas) and multi religious practices (both savya and apsavya). Indian culture provides us a wider choice of multiple disciplinary paths or directions, all leading to only a single goal. Though it appears very complicated, Indian culture allows an individual to enjoy complete freedom in choosing a path of his liking and ability for his spiritual practice. Though different schools have evolved in ancient and medieval times, the individual's freedom to follow any particular school is assured. Various schools, practices, beliefs of multi communities living together have in course of time been absorbed by the mainstream which is now known as 'Hinduism' in which all these practices and beliefs are comfortably accommodated without major frictions. Therefore, the secular thought has been the basis of Indian psyche even in the presence of strong non-Indian religions in practice and also being preached. The non-Indian religions and philosophical schools are not only tolerated in India but also respected.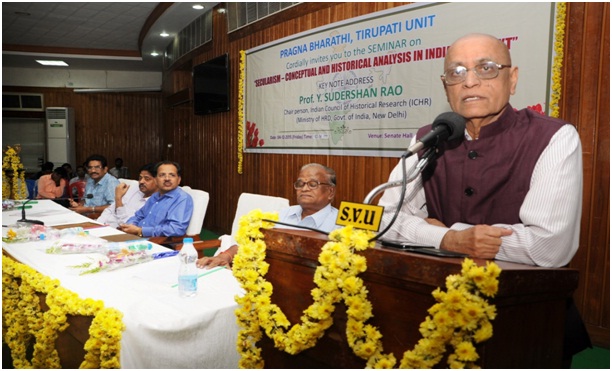 Hon'ble Chairman delivering the keynote address at SV University, Tirupati
25-07-2015
A symposium on 'Ayodhya' held at National Museum, New Delhi, organized by the BISY, Delhi Chapter.

While speaking in the meeting, the Chairman reiterated that the Ayodhya issue was more a political than a historical one. Though the demolition of a heritage structure is condemnable, denying the antiquity and historicity of the place is deplorable. Appreciating the scholarly efforts of Professor Meenakshi Jain, Member of the Council of ICHR, to present a critical assessment of the documents presented to the judicial courts, the Chairman felt that the issue had turned out to be a mere property issue.
21-06-2015
Jain Viswa Bharati University, Ladnun, Rajasthan, on the occasion of International Yoga Day.

The Chairman was the Guest of Honour at the function. He spoke on the significance of yoga in its spiritual and temporal aspects and tracing its history from the ancient times.
11-01-2015
Kakatiya University, Warangal, ICHR Orientation Course in Research Methodology.
Brief Summary
The Southern Regional Centre of ICHR had conducted an orientation course on Research Methods at Kakatiya University, Warangal in collaboration with the Department of History and Tourism Management of the University. While inaugurating, advised the students to take up the research with due seriousness and acquire necessary skills and capabilities. Keeping in view of the specific requirements of the scholars in this university, advised them also to learn research methods of folk studies, tourism management etc.
30-10-2015
A Special Lecture on "The Importance of preservation of Heritage Monuments", organized by Rajasthan Study Centre, and the Department of History and Culture, Rajasthan University, in collaboration with the Rajasthan Gharohar Samrakshana and Pronnati Pradheekaran, Government of Rajasthan, Jaipur.
Brief Summary
Indian sub-continent, known as Bharat since time immemorial, has left a vast and rich mine of historical material of different kinds. The significance of this 'Land' is that every inch of this will tell us many stories of historical interest. Apart from material remains, we have folk and tribal lore besides elitist oral and literary traditions. The modern times dominated by Western education and culture contributed to the alienation of present generations from their rich past. It is time that the Government takes cognizance of this situation and initiates appropriate measures to educate our children and youth in such a manner that they are able to appreciate the rich, age-old cultural heritage of our country.
Hon'ble Chairman delivering the inaugural address at Rajasthan University
23-12-2015
10th Conference of Bharatiya Itihasa Sankalana Yojana, University of Mysore, Manansa Gangotri, Mysore.
Brief Summary
Chairman gave a message to the Conference which reads as follows:
"The modern understandings of the origins of Society and State formation are dependent on the Western theories mostly proposed during the Enlightened era in Europe. The modern theories are evolved on the basis of imagined societies of the past in the light of empirical analysis of the present. While the imagined societies are unreal, the empiricism changes priorities very frequently. So, the understandings based on such temporal thought process would lead to diversities, complexities and mutual incompatibilities. The liberal thought has led to 'individualism' where every individual will have his/her way in life. Stretching too much of this 'liberalism' will test the elasticity of social harmony. Intellectual speculations on fundamental issues and basic social structures would only destabilize the time tested social institutions in general and marriage institution in particular.
India, which holds the record of unbroken culture since ages unknown, holds the key for the survival of civilized communities continuously over the length and breadth of our country. Our civilization throughout has been based on culture. Our culture has emerged from the Vedic thought which in turn is based on Dharma. This is what we refer to as Sanathana Dharma. Thus, Dharma is not only above religion, it is also the basis for the Veda, according to Mahamahopadhyaya, Dr Sivananda Murtyji. The primary Vedic literature professes Dharma; Sutras dictate Dharma and Epics demonstrate Dharma.
Our ancient literature vouchsafes that Indian social institutions enjoy solid cultural base reinforced by Dharma unlike modern intellectual propositions. As argued today, social institutions like marriage, family, community, tribe, society and state should not be understood as contractual, which could be broken at will. Safety and security of woman is given top priority in all these social institutions by the ancient Indian culture. An individual, man or woman, has to be bound to certain regulations, a code of conduct, for establishing harmony in the society. In a social organization an individual enjoys restricted freedom. Absolute freedom evokes jungle law in the temporal world.
The original Indian thought is not mind-boggling; rather it is soul-searching. It explains the meaning and purpose of life. It fixes one goal for all and allows wide choice in religious practices. Though the soul has no gender yet it takes birth as either male or female. They are united as 'one' in marriage. They together pursue one goal thereafter. Common spiritual goal for both is unique to Vedic marriage. Thus, every Indian marriage, irrespective of caste or colour or creed or rituals or family customs, is viewed in terms of the marriage of Goddess Laxmi and Narayana, to be united like Ardhanareeswara (like Siva and Parvati, the primordial couple) and to live in this world as two in one ( like Sita and Ram). That is the ideal for the order of the society.
It doesn't mean that all Indian marriages are running on ideal lines, but their shortcomings should not be attributed to the concept. The success of these marriages also varies in degrees. We mortals attempt to reach the goal, transcending the pitfalls. In our life, we may be failing many a time but we continue to struggle to stay on the path since we have to take the system seriously. The institution of marriage sustains a healthy society.
The Vedic marriage system is qualitatively different from the marriages of other religious belief systems or modern social marriages or live-in relationships where both enter into a conditional agreement unless they bind themselves for life. Otherwise, the modern approaches may even take us back to the days of social formation. Gender equality is better served in the marriage system where mutual respect and understanding is ensured between the partners.
In fact, in Indian philosophical thought, wife is not only equal to her husband, but even placed in a central position in the household domain. In family and in marriage, much thought was applied to ensure first her security and primacy. Man's life only revolves around his wife in a limited radius being bound to her and she, holding the rope, loosens or tightens, as occasion demands. The Sutra literature deals with do's and don'ts in detail for both men and women. The modern interpretations of the Sutras leading to misunderstandings of the time-tested institutions are conditioned by the present social complexities."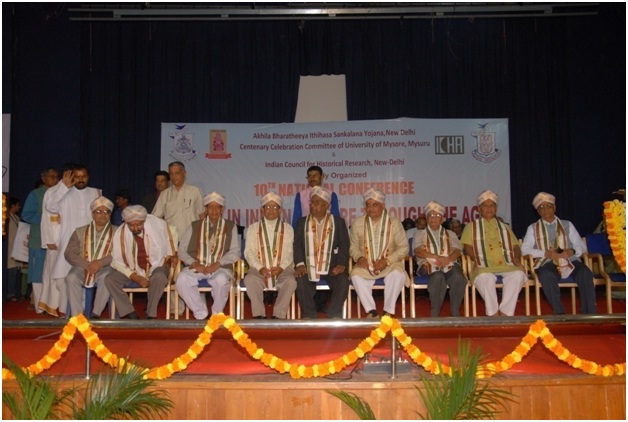 Hon'ble Chairman (extreme right)with other participants at the 10th Conference of Bharatiya Itihasa Sankalana Yojana, Mysore
17-12-2015
Joint Annual Session of Indian Archaeological Society at University of Hyderabad, Hyderabad.
Brief Summary1
Chairman, in his message at the inaugural function of the Joint Session of the Society, reiterated the importance of archaeological and literary sources for constructing the history of the past of any community or society, region or country. India is unique in the world with vast amount of literary sources dating back to time immemorial and every place in India will provide material evidences if properly and seriously explored. Historiography depends on these two basic sources – archaeological and historical. Now several other intangible sources, folkfore for example, are also identified to reconstruct the history.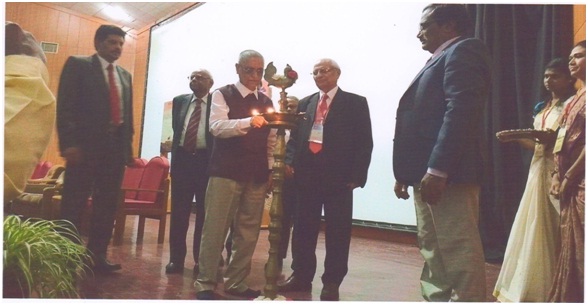 Hon'ble Chairman igniting the traditional lamp to mark the inauguration of the Annual Session of Indian Archaeological Society at University of Hyderabad
He said that the development of science can trace its beginning to the Enlightenment era in Europe during 18th century. The 'knowledge' had been unclassified till then. The basic disciplines of science emerged in 19th century which is described as the Age of Science. The disciplined and classified Science has revolutionized the life of man on earth almost influencing every walk of life. The following century witnessed a spurt in the progress of science as each discipline developed substantially which necessitated the branching off of each discipline. Specializations and super-specializations have emerged. The super-specializations led to the emergence of applied sciences. This phenomenon transformed the 20th century as the Age of Technology. By the end of the last century, the necessity of following an interdisciplinary approach became widely recognized and the leads in these fields in the present century suggest that the demarcations and boundaries of each discipline are superficial.
Archaeology as a science underwent all these phases of development from amateurish to professional. Indian historiography was mainly dominated by literary sources. Till early 20th century, our historiography was based on literary sources. Our attention is now being drawn to archaeological sources, thanks to the pioneering work of Cunningham. He identified several Puranic sites and the routes of the travelers based on literature – foreign and indigenous. In the first half of the 20th century, archaeology enriched our history with new finds of material sources. These findings and new interpretations of these sources have also disturbed the contemporary established facts of history. A new trend has developed in the Indian historiography giving prominence to archeological sources and the authenticity of literary sources is mostly dependent on the material evidence. Several issues are raised in relation to ethnic, social, cultural, economic and political aspects.
Globally, like all other sciences, archaeology as a discipline has also undergone a great change from pre-processional and processional to post-processional. While in the beginning it was thought of digging our past for us, but now modern super-sciences like geology, astronomy, bio-chemistry, etc. are being applied to explore medieval and modern times and also cosmic spheres. It is also attempting to include intangible sources like folklore. The archaeologists being inspired by the Indian literature are seriously attempting to find archaeological sources to authenticate their ancient myths, old and new Testaments, etc. Indian archaeologists may also pay their attention to these studies to substantiate Indian history. The advances made in the archaeological science in the West should help us in our endeavor to know the factual and real history of our past. He suggested that archeological and literary sources should go hand in hand to reconstruct our history.
He concluded by quoting a distinguished archaeologist, George L. Cowgill: "If we cannot properly understand without taking serious account of the minds of ancient individuals, we face disturbing problems"(American Anthropologist, New Series, Vol. 95, No. 3 [September, 1993], pp. 551-573, http://www.jstor.org/stable/679650)
02-10-2015
National Seminar on "Contribution of Folklores in History writing", organized by Thakur Jagdev Singh Smriti Sodha Samsthan, Neri, Dt. Hamirpur, Uttarakhand.

While inaugurating the Seminar, the Chairman spoke on the importance of collection and preservation of our folk traditions, which are fading away fast. If enough care is not taken by the Government and voluntary associations to preserve our folk traditions as historical sources, the future generations shall stand to lose. He said, our ancient literary tradition only started as oral tradition. For preserving the knowledge, a number of families are identified and they are entrusted with the responsibility of preserving the oral tradition in letter, sound and deed for thousands of years.

Similarly, the families were dedicated to popularize history of the universe and mankind as Puranas and the knowledge of this was disseminated to different regions of our land. This was a continuous effort by the elite to reach out to the common man. We can find the system working in historical phase in Buddhist and Jain traditions. During the medieval times, as modern vernaculars developed, some families under each social group were entrusted by the communities with the responsibility of recording, preserving and propagating their family histories and the stories of their heroes and memorable events. This method was current till we got independence. In modern times these long chains got broken. The valuable historical information was thus lost forever. The least we can now do is to preserve whatever historical information is available for the benefit of future generations.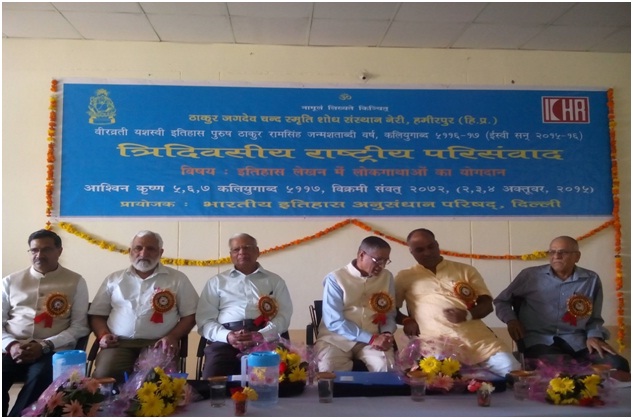 Hon'ble Chairman interacting with the organizers of the National Seminar at Hamirpur, HP
30-10-2015
National Seminar on "New Dimensions on Early Medieval India", Rajasthan University Campus, organized by Shodhak, Jaipur.
Brief Summary
Inaugurating the Annual Session of the 'Shodhak', the Chairman referred to certain misconceptions about medieval India. The early Western scholars, looking at medieval India from the Western historical perspective, claimed that the medieval period was a dark age wherein India was split into small kingdoms that were at loggerheads with one another on a constant basis, creating in the process total disunity. This fragile political situation invited outsiders to encroach on our territory.
In fact, there was no historical void between Ancient and Modern periods in India. Though it is difficult to convincingly establish a civilizational continuity covering the missing links from the remote past to Mauryan times, India, nevertheless, is blessed with continuous civilization and culture from time immemorial. Empire building for the sake of extending their political control over other geographical areas was not an Indian concept. Even during the epic period, epic heroes had defeated their enemies only for their personal reasons and the victors did not occupy the kingdoms of the losers. The main aim of the heads of those political units was protecting the 'dharma'. Even the empires referred to in the epics and ancient literature, Sanskrit and others, were dharmic and cultural rather than political. Now-a-days, it is often stated that the 'haves' have succeeded in building huge 'economic' empires. If we classify the invasions on India, we find that the earliest known in our history was that of Greeks which was surely political; and those of medieval India in comparison were, initially, economic but later turned out to be political and religious. The attacks by Westerners were mostly commercial.
It may also be mentioned here that the dynasties ruling India in the medieval times were so short that stability of the kingdom was always in peril. In ancient India we find long lineages of kings in at least 4 or 5 dynasties, some continuing for more than 100 generations dating back to Puranic times till almost up to the Mauryan times. We do not hear of any major wars among them. Even the Mahabharata was fought between the cousins for the same kingdom. Several kingdoms in Bharat, including the ones in deep south, participated in the battle. Irrespective of the results of the battle, no participant either lost his kingdom or gained the that of the other. In comparison, the invaders of India in the medieval times were of a different class.
The distorted Indian history of colonial times has been so widely publicized and has so deeply influenced the minds of people that all efforts to bring the truth to the forefront have gone in vain. While colonial historiography contains lots of distortions, borrowed perspectives, bias on the basis of class, colour, gender, social status, etc. of the West dominate the historiography of the post-Independence period. Modern research works are only meant for the scholars to read and debate endlessly without any concrete purpose being served. The common man is thus deprived of any knowledge of his history. Let modern research scholars strive to work sincerely without a bias in order that the masses get to know the real history of the people. History should be objective and its aim should be to educate the common man in such a manner that his character gets transformed and he is able to see things in their true perspective.
A warm welcome being extended to Hon'ble Chairman at the National Seminar organized by Shodhak, Jaipur
29-08-2015
A conference of the north Bihar branch of Akhila Bharatiya Itihasa Sankalana Yojana, organized by Mahakavi Kalidasa Suryadeva College, Chandouna, Darbhanga Dt., Bihar, 29-30 August 2015.

In his inaugural address, the Chairman said that the history of historiography in India for the past two and a half centuries would reveal that we deviated substantially from our ancient historiographical tradition. Ancient historiography aimed at shaping the behaviour and conduct of the people for an orderly living in a peaceful and non-competitive environment so that an individual could make progress both in the material and spiritual spheres. The ancient texts with valuable historical content of remote times endeavoured to promote a dharmic society. These historical texts are underpinned with the ideology of creating a Global Human Family based on Dharma. Herein lies the fundamental difference between the East and the West with regard to the aims and objectives of both genres.

The early British records show that the Indian society, though not literate, was not uneducated till its introduction to the Western system of education. The natives were trained in their respective family occupations from the early childhood which obviated the need for them to look for employment outside their homes. There were numerous gurukula type schools where Sanskrit was taught. These were single teacher schools serving the students. Unlike the present, students were not 'classified' or categorized. They received education according to their abilities in a leisurely manner devoid of pressures or anxieties and eleventh hour preparations. The colonial government brought about sweeping changes in a hurry to suit their own needs. The new curriculum was totally alien and irrelevant to their needs. Similarly, the historiography was designed in such a manner that undue emphasis was laid on the political content. Thus pre-Independence history, Imperialistic or Nationalistic, was written for mundane purposes while the post-Independence history is being written with the purpose of dividing people and juxtaposing one group against another. The diversities in religious practices, cultures and customs are defined as self-clashing contradictions. The Marxian approach to Indian history tries to destroy any idea of unity of the humanity by magnifying the specialities or diversities of microcosms in negative shades.

Western historiographical models created havoc in Indian historiography by applying the theories of Western social sciences to understand Indian historical processes. These social science theories founded in European environment and mostly conjectural - modern and post-modern - are alien to the Indian context. They are thrust on Indian historical developments. It was therefore felt that there was an urgent need to create indigenous models and methodologies to study our own history situating in our context.
05-10-2015
ICHR Workshop on 'Rapid Urbanization' at Osmania University, Hyderabad.
In his presidential remarks at the close of the workshop under the Indo-German exchange programme organized by the ICHR, the Chairman spoke:
"The 'urbanity' referred to in this workshop is different from India and the West. Their characteristics are also different because the studies pertain to different regions of the world. The phenomenon of this urbanity in the West is mostly related to the post-industrial revolution. The process of modern urbanization in the West has three phases: pre-industrial revolution, post-industrialization and post-Second World War when Global economy had emerged. Including its urban phase of Greco-Roman times, their urban history does not go beyond two-three millennia. But India has had quite longer background for its urbanization dating back to 5-6 millennia of Harappan times. Recent studies show that Harappan urbanization was not just limited to the Sind area; this phenomenon was widespread in India. Urbanization has been a continuous process in India as there were no breaks in civilization.
Indian urban process has also three broad phases because of her colonial background: pre-colonial, colonial and post-Independence. Pre- colonial period had witnessed developed urban process on most scientific lines, the texts dating back to at least two millennia. The coding and fabricating applications continued till the beginning of its colonial phase. The medieval text, 'Samaranganasutradhara', is a fair example of this. The pre-historic town planning of Harappan times, urban management science from Indica and Arthasastra serve as appropriate examples of expertise available in India. Many historic cities, the antiquities of which cannot be traced, continue to be famous religious and commercial centers. Considerable historical literature on the ancient cities is still available. According to legendary sources, Varanasi, the seat of Viswanatha, is supposed to be about 25000 years old and claim that it was found at the time of the beginnings of this 'creation'.
Our Sastras and literature have distinctly classified cities or towns, like pura, pattana, nagara, etc. These distinctions are based on how and why a city is raised. Some served as capitals of political units, some as administrative units, some for trade and commerce, some for artistic pursuits, etc., During the colonial phase, European traders built their 'factories' along the Indian sea-coast. In course of time some of these factories developed into bigger towns and cities. Greek and Roman notices of early centuries of this era mention the existence of many 'puras' protected by walls. In the Deccan itself, it was reported that there were 30 'walled towns'. Thus, we are left with a very rich heritage of towns and cities. With the coming of Muslims and Europeans, new cities came up throughout India with different stylistic features. In the post-Independence era, the process of urbanization could be seen in two sub-phases--pre-liberalization and liberalization stages. During the mixed economy phase in the pre-liberalization period, major industries and irrigation projects came up in new cities and townships in the existing cities. Rural migration made these cities intolerably congested. City-planning is totally ignored, slums developed, traffic increased multi-fold and things went beyond control. Liberalization gave impetus to rapid urbanization.
Ancient and medieval cities could retain their special characteristics till as late as the beginning of liberalization of economy. In the past two-three decades, every Indian city has grown disproportionate to the physical facilities and infrastructure available in the city. Traffic congestions, constant widening of roads, etc. changed the faces of all cities. When we speak of heritage, none of these cities could preserve and retain their pristine glory and characteristics. Unlike European cities which till now succeeded in retaining their medieval stylistic features, Indian cities have grown beyond recognition in three decades.
In the recent times, several scholars worked on urban history in the West. But their theories are based on their experiences and these theories and applications are based on empirical studies in their regions. A few Indian scholars are also attempting to research in this area. We must draw the attention of the policy makers to consider the historical aspects of urbanization and Indian theoretical knowledge of the past in building up strategies to solve the problems we are encountering in the process of urban development."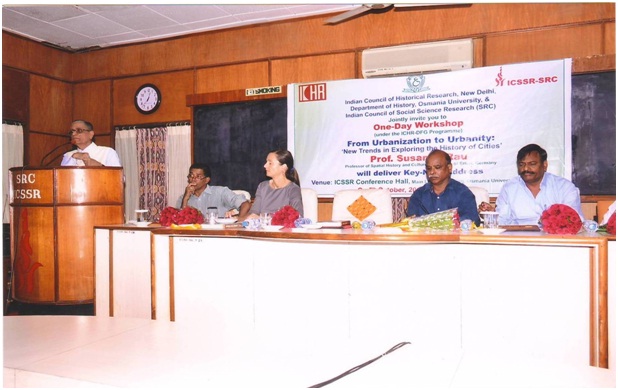 Hon'ble Chairman delivering the presidential address at the conclusion of the workshop at Osmania University, Hyderabad; Professor Susanne Rau from Germany(sitting) delivered the keynote address
07-09-2015
Two-day National Seminar on "Retrieving People's History of Telangana – Participation, Perspectives and Prospects", organized by the Dept. of History, Dr B R Ambedkar Open University, Hyderabad, 7-8 September 2015.

While inaugurating the seminar, the Chairman said that the region now known as Telangana State constituted the Deccan proper which was referred to in ancient times as Dakshinapatha. Its historical antiquity, according to archaeological sources, goes back to at least 5 millennia which is referred to very significantly in the puranic and itihasa literary traditions. The foreign notices vouchsafe that the extent of the region was spreading between two seas and flourishing with inland and foreign trade since at least 3rd century BC. Its culture was widespread covering south Burma and major parts of South-East Asia. There is an illustrious historical continuity under several powerful dynasties dating back to historical Satavahanas. Being the middle region connecting north and south India, its geographic centrality in Indian sub-continent has been vital in promoting an amalgam of the diverse cultures of different regions. All the major religious movements of India were welcome here. The folk and Vedic traditions are known in this region from at least the puranic age while Jainism and Buddhisim became popular right since the time they came into being. We have clear evidences to show that there were local literary languages popularly prevalent along with elitist Sanskrit. Satavahana ruler Hala's episode shows that there were rulers who were not acquainted with Sanskrit. We already have well written standard works on the history of this region.

The term 'retrieving' the History of Telangana actually pertains to our efforts to cut a slice limited to the present political extent of Telangana State out of that mega history of the 'Tailangs' once spread from the present south Odisha in the east to Nasik in the west and beyond; from south Madhya Pradesh in the north to the area very close to Kaveri river valley in the south. As we come closer to modern times, we find that the history of Telangana and the culture of Telugu people have been viewed and interpreted differently by scholars. Being politically motivated on imperial or national lines, the late pre-Independence and post-Independence historiography of our country as a whole and our Telangana region which formed part of the Nizam's dominion poses several challenges to the present historian who seeks truthful appreciation and critical account of the recent and remote past.

One such major challenge comes from the nature of modern historiography of the West, which looks at man mostly as a political or an economic or a social animal (being) but much less as a cultural or an artistic or an intellectual or, for that matter, a spiritual entity. Our ancient literature viewed at different peoples according to their distinctions rather than their political affiliations. One of the main purposes of history writing could be to promote a clear understanding of the failures and achievements of man in the process of his being humanized in a given geographic and cultural environment. Thus, the efforts of the people of different denominations should facilitate the merger of all of them transcending all artificial barriers into a humanity as a whole but fairly conscious of common good of all.

To tread on the path laid by Western historiography, we are trying to relocate the history of newly formed Telangana State as a political division. But, while undertaking micro or regional studies, we should try to ensure that such studies contribute to the enrichment of the macro history on sound lines.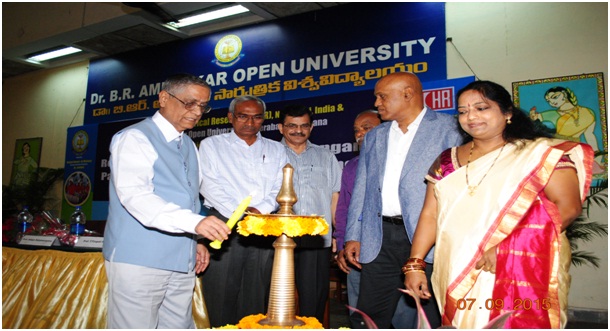 Chairman igniting the traditional lamp to mark the inauguration of the seminar
28-08-2015
Talk on 'Historiographical Methods – A Critical Appraisal', in the Patna Government Museum, organized by the Patna Historical Society.

While giving a talk on Indian Historiography, the Chairman gave a critical appraisal of the historiographical trends from the early colonial to the present times and pointed to the much debated question whether history could employ scientific and empirical methods of social sciences. The nature of historical problem poses many problems to the researcher. We do not have standard methodologies and their practical applications for a given historical problem. The recent historical genre that emerged in the early colonial period mostly concerns with the political scenario of India while in the contemporary times studies on different themes encompassing economic, social, cultural, art, religion, etc. and sectional historical genres like women, dalit, subaltern, regional, etc., are being attempted. The micro and subaltern approaches need different methods borrowed from modern disciplines like Anthropology, Sociology, etc. resulting thereby in history losing its separate identity by virtue of being lost in the heap of various allied disciplines. In most cases, history loses its identity being lost in the heap of various allied disciplines.

Apart from these methodological questions, the major concern arises with regard to the purpose of the study of history. Does historiography have a purpose? For whom is it meant? Does it help us to draw projections into at least the immediate future with our understandings of collective human experiences drawn from the past and the present? Could it be equated with the material objective sciences where the findings are demonstrable and the results predictable. The current historiography gives us a pathetic picture. Our historical research findings are generally confined to the specialist libraries and inaccessible to the common literate citizen while the governments seldom look to them at the time of formulating policies. These issues have to be addressed to make historical studies meaningful and purposeful. The arising of these complexities owes largely to the modern genres of history.

While it is generally agreed that India has a notable literary tradition with a sense of history from the early times dating back to at least 5 millennia, it is worthwhile to examine the ancient literature to understand the approaches of people of those times to history, the nature of its genre, the methodologies they applied and the purpose with which this knowledge was disseminated to society and individuals. It is also important to understand the techniques employed by them to bring this historical knowledge to the doorstep of common man in order that he could be benefited by this knowledge. Scholars of present times, opined the Chairman, should think on these lines and suggest ways and means to make history more meaningful and purposeful.
27-08-2015
National Seminar on "Intellectual Traditions of Ancient India", organized by the Centre for Ancient History and Culture, GJI Jain University, Bangalore, 27-28 August 2015.

While inaugurating the seminar, the Chairman expressed the opinion that the research in our history was in a precarious situation. The pre-Independence history covering both streams – colonial and national - has brought in its wake certain problems. The post-Independence history of India was 'take over' by the Leftist school more effectively from 1970 onwards. Any attempt to correct them meets with a stiff opposition from a section of historians wedded to materialistic perspectives and also from those who have developed sectional interests. He emphasized that the Vedic scholars should devote more attention to historical research of ancient times. He said: "Most of the present-day professional historians are not well acquainted with ancient languages such as Sanskrit, Pali, Prakrit and they should be well aware of their limitations. Objective history is only possible with the help of scientists from various allied and sister disciplines. Despite the fact that historiography needs material help from these sciences, still it could not be designated as a science but it could safely be called a proto-science, because the observations of a historical development are not demonstrable, nor predictable. The application of theories of various social science disciplines like economics, politics, etc. based on empirical studies to a historical process creates more confusion and avoidable conflicts. More so, these social science theories are based on conjectures of the Western intellectuals who belonged to an alien locale for India. In Indian historical curriculum, all these theories are included blindly without being questioned. However, engagement of scientists from various disciplines is, of course, needed to clarify these three century old historical theories."

On this occasion, a video interview on historical research and the priorities of ICHR in the coming years was recorded with the Chairman. It is available on youtube link, https://www.youtube.com/watch?v=9qK8vSLRN4Q.
21-08-2015
National Seminar on "Problems and Perspectives of Modern Historiography with reference to Indian Culture and Heritage", CKM Arts and Science College, Warangal.

In his inaugural address, the Chairman suggested that the micro studies are necessary to enrich the macro history of any country. But simultaneously he warned that the micro studies should not create misapprehensions and promote regional chauvinism and divisive and disintegrating tendencies. India is unique in the world for its unbroken civilization and cultural evolution through the ages. Despite the striking variety in languages, customs, traditions, food habits, social systems, beliefs, religious practices, different schools of philosophies, scientific and technological developments, India still remained a great nation. History stands testimony to political fragmentations and efforts of unification as well on several occasions from the ancient times to the present day. Though these political upheavals and diversities left a deep impact on our body-politic, India has accrued a rich cultural heritage based on the eternal values. Indian literature and art contributed to the preservation and propagation of these values which still govern our distinct national character. During the last two centuries of the colonial rule, India strove to emerge as a sovereign political nation through cultural rejuvenation. Indian historiography on Western lines developed during this phase. The trends of Western historiography did have a great impact on its Indian counterpart. Various schools of philosophy of history have contributed to the development of different perspectives on Indian history. In the post-Independence era, these perspectives have often been creating new controversies while complicating the already existing ones. In recent years historical writings have mostly been confined to serve the regional and sectional interests, relegating in the process the macro-history to a secondary position. Now histories with different shades and perspectives are looking at the mainstream Indian culture as antagonistic to the minor streams, though in real and practical terms they have been mutually complementary. The modern Indian historiography, thus, needs a closer examination and an objective assessment.
19-08-2015
63rd Meeting of the Central Advisory Board of Education, Ministry of HRD, Govt of India, Hall No. 5, Vigyan Bhavan, New Delhi.
The Chairman participated in the meeting and later submitted a detailed note to the Government on 'new education policy'. His note aimed at 'Towards an Indian Knowledge Society' covering the entire school-going population, assuring them standard education with modern infrastructural facilities on a par with the developed countries. The commissions on education system in the post-Independence era have been following a 'selective approach' which denies model schools for the vast majority of children at the school level. He suggested that a mass education programme should be planned to:
ensure quality in general education with job training up to class 12;
providing excellent higher education for all deserving students; and
removing the alarming disparities between private and public schools in teaching standards, physical facilities and amenities.
He suggested a work-plan for designing the educational framework to achieve the above-stated objectives.
18-06-2015
Indian History and Culture Society's book release function: IIC Auditorium, New Delhi, organized by Mrs Amrita Grover.

Ram Janma Bhoomi, an analysis of Revenue and Judicial Documents and Historical Facts, written by Professor B R Grover, former Chairman of ICHR, was released by Professor Murali Manohar Joshi, former Minister (HRD), Govt. of India. In this connection, the Chairman pointed out that the issue had begun in the early Mughal period, once again brought to the forefront during the colonial rule. Ayodhya has always been at the centre-stage braving the religious tides quite often from the ancient times, as a seat of Manav Dharma(Humanism)which has been Sanatana and now popularly known as Hindu Dharma. Sri Rama who is acclaimed exclusively as 'personification of Dharma' was born in Ayodhya, lived and ruled from there, according to his conviction. Ayodhya city being the earliest known capital surviving many vicissitudes till now had played a significant role in the formation of State in India and shaping India's Rajadharma for which Sri Rama stood as the iconic figure if viewed from temporal perspective. Even if divinity is ascribed to him, he stands quite apart from all previous Divine incarnations which came on to the earth to curb evil that had assumed serious proportions, endangering the very fabric of a civilized society. But, Sri Rama—the very epitome of goodness and righteousness--idealized human conduct (Dharma) and governance (Raja Dharma) for a civic society. Ayodhya, unlike Varanasi, has not been a seat of religion and philosophy like Varanasi; rather it has symbolized ideal human conduct, humane civic society and good governance as a secular seat. Naturally, Dharma attracts attacks from adharmic forces from all sides. The Late Professor Grover gave a clear analysis of the documents relating to the possession of certain structures which are now seen in the judicial circles as a mere civil issue.
23-04-2015
A meeting of the National Implementation Committee to commemorate and celebrate great historical personalities of India organised by the Department of Culture in NMML Conference Hall, New Delhi.
Brief Summary:
The Government of India has taken a laudable scheme to remember and honour great historical personalities whose centenaries are falling in the year 2015. While speaking on the occasion, the Chairperson thanked the Government for taking up such a pious project to pay our respects to those heroic souls for their dedication, sacrifice and above all their love for our Nation. He further suggested that this should not be a one year event, but a National Committee should be set-up to identify such great personalities from all regions of our country to be commemorated every year and that the ICHR could act as a nodal centre for this noble activity and that it has necessary technical know-how to select the personalities and conduct the academic programs on the life and works of these great souls at regional level and also at national level. He also proposed that these celebrations may include following minimum programs:
Regional level: identifying a site connected to the life or work of the personality where a national monument in form of a utility building to house a museum or research institute or a cultural centre or a theatre can come up in an expansive park. Seminars and cultural programs may be organised in the respective State capitals.
At the National capital, Delhi, a series of programs, both academic and cultural, may be conducted dedicating one day for each great personality in the month of August culminating on the Independence Day when the Leader of our Nation pays homage to them in his address to the Nation. This may be a fitting tribute to them.
In fact, India is endowed with a very rich heritage carried forth from times immemorial, it will be definitely a tough task in choosing a few for our convenience. However, we should atleast do our minimum duty as a token of our love to the great lovers of our Nation.
18-04-2015
Mythic Society, Bangalore, National workshop in connection with their project on 'Re-writing History of our Nation' on 18 and 19 April, at Bangalore.
Brief Summary
Mythic Society is more than a century-old institution working for the cause of serious historical studies. The Society has already produced creditable work on various aspects of south Indian history. Now they have taken up a mammoth project to bring out a multi volume comprehensive history of India on the lines of the Bharatiya Vidya Bhavan. Chairperson interacted with the committee members and their chosen resource persons of this project. He suggested that the new work should be so designed as to cover various aspects of culture , society, art and science in a broader political and geographical frame-work.
11-04-2015
Hyderabad Historical Society and Historical Society of Hyderabad, Salarjung Museum, Hyderabad, : Book releasing function. 'Studies in Medieval Deccan History', a fest in honour of Dr M A Nayeem.

Brief summary:

Chairperson attended the meeting as Chief Guest and spoke on the need for serious studies on Deccan History dating back to Harappan times. He said that young scholars should be encouraged to take to research studies in various aspects of history across the times and they should be equipped with the modern tools of exploration and analysis besides sufficient knowledge in archaeology, epigraphy, numismatics and working knowledge in languages like Prakrit, Sanskrit, Persian, Arabic and vernaculars. It is heartening to note that basic pioneering and seminal works on Deccan history are attempted by well informed scholars from 19th century who were not 'professional' in modern sense. Their studies helped the professional historians in the twentieth century to bring out standard works on the subject. He appreciated the self-less scholarly work of Dr Nayeem in enriching our knowledge of Deccan history.
Chairman addressing the gathering at the Book Release Function

He also released another valuable work 'Aryan Home' written by Late Kopalle Sivakameswar Rao, a Sanskrit scholar from Kakinada, Andhra Pradesh. He made a serious attempt to establish that the original home of Aryans was Saraswati valley and that the Aryans were not a race. He put forth a very convincing argument that the European theories on the Aryan Home were not supported by any material evidence and the language theory was basically wrong. Though, his work belongs to a period when the scientific evidences were not available as today. The scholar had shown how shallow were the European linguistic theories which however could not agree upon to suggest any 'one home' for Aryans. He felt that ICHR should plan to work on this problem of Aryan Home and bring out a comprehensive study on various propositions made by the scholars of different schools of historiography.
28-03-2015
International Seminar on 'THE INDUS-SARASVATĪ (HARAPPAN) CIVILIZATION VIS-À-VIS THE ṚIGVEDA' organized by Draupadi Trust at IIC Conference Hall, New Delhi.

Brief Summary:

The Chairperson, in his presidential address in the valedictory session, reiterated that early Indian history reveals the evolution of culture and civilization based on Vedic Knowledge and Wisdom. History writing depends on various scientific disciplines like archaeological sciences, astronomy, geology. But all these allied sciences have their own limitations. The modern social and historical theories could not decide the future developments as our present theories are based on a select data and human behaviour is unpredictable. Therefore, 'determinism' does not apply to historical developments. He further said, historical research is not the forte of professional historians alone. The 'truth' coming from a child should be welcome. Those great thinkers before the present genre have shown us many approaches to study history. Great thinkers like Karl Marx or Hegels are no less historians than the present. If prejudices are set aside, true history of human-kind will be possible, he said.
27-03-2015
ICHR Foundation Day Lecture delivered by Dr David Frawley (Shri Vamadeva Shastri) at NMML Conference Hall at 5 pm, on the topic : "Textual Evidences in Vedas – Cultural and Historical Implications".

Brief Summary

Chairperson presided over the programme. In his opening remarks, he said that historian working on ancient Indian studies is dependent on ancient literature as historical source. The Vedic literature, besides being a fund of knowledge by itself, also refers to some important historical events and personalities pertaining to our remote past. The Veda Pandits like Dr Vamadeva Shastri help us understand the ancient Sanskrit literature. The working knowledge of Sanskrit is not enough for understanding the nuances of Sanskrit literature. Therefore, there is a great need to depend on the Vedic scholars to help us discover the historical content from the ancient literature. In his closing remarks congratulating the speaker for an informative talk on Vedic times he said, 'Aryan Invasion Theory' was a Western construct and that it was not backed by any archaeological source.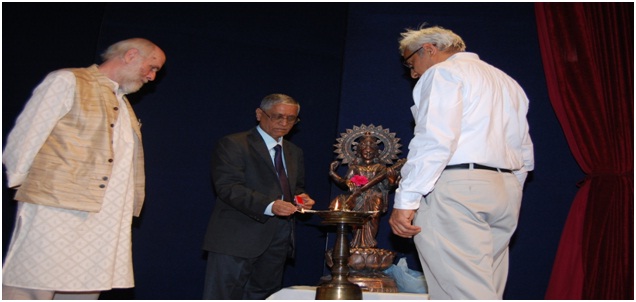 25-03-2015
A National Seminar on "DOES HISTORY BREATHE? SOME PERCEPTIONS" organized by History Dept, Shivaji College, University of Delhi at 9.30 am.
Brief Summary
The Chairperson attended the inaugural function of the Seminar as Chief Guest and spoke on "What and Why of History". The following is the abstract of his lecture. "History, in the modern parlance, has its beginnings in the early Greek writings. The early writers have attempted to record what was heard and seen in their contemporary world. The purpose of these writings were empirical in the sense of facilitating their commercial interests with the other civilized parts of the world which was then evidently Arabia and Asia in general and India in particular. This was 'what and why' of their historical endeavour. These 'fathers' of history lived only in their present. The subsequent Arab writers also conformed to this genre.
Philosophy of History has its beginnings in the Enlightenment period in Europe when the intellectuals realised that historical developments had a linkage caused by unseen forces and that these developments might lead to higher goals. The theories of history emerged to project the present into the future. Their set-data was pertaining to their present and to some extent to their recent/known past. These studies may be useful to understand the present. But these theories based on the present would become irrelevant for the future as the data would soon become outdated as everything in the present is transitory. We know that empirical studies in social sciences may have relevance only to the present or near future. Western genre of History has emerged during the past three centuries falls into this shortsighted category. Their area of study was limited to the geographical boundaries of Europe and their information about the rest of the world was mostly heard and imagined. Exactly in this alien setting, Indian history was born only to benefit the colonial masters.
When the subsequent foreign writers attempted to write Indian history developing direct contact with this land and people, they were encountered with vast amount of historical sources – oral tradition, literature and archaeological finds – unexpectedly and they were drawn to the remote times defying any estimate. They however tried their best to squeeze the info into their avowed limited time frame. So, the modern genre of Indian history fails to show-case properly India's past - recent and very remote.
Indian perspectives of History have been very clearly demonstrated in its ancient literature – Epics and Puranas. This is the 'what' of our history. The set human values are based on Dharma which was defined clearly and demonstrated through the historical events and the lives of ideal personalities. Dharma having both temporal and spiritual connotations is the bed-rock of Indian culture. This foundation is stewed with rich historical events of remote and recent past to make Indian culture explicable. Indian culture is designed to guide the humanity to smoothly and peacefully pass through this temporal life and reach divinity as an ultimate goal. Thus Indian history is set with higher goal for which our sages delved deep into the remote past. Purana is the product of a serious and deep inquiry into the unknown times of this Creation while the Epics demonstrated the same theme i.e, Dharma through contemporary great events only to assure us of its all-time paramountcy and infallibility. This is the 'why' of our history.
What we teach today in schools and colleges lack both moral and material content which could mould character and conduct of the taker. Our history is deprived of Bharateeyata (Indianness). Perhaps this might be one of the reasons for the inability of the current genre of History to attract the students and general public."
19-03-2015
Late Prof Mallampalli Somasekhara Sarma Centre for Research in History and Art, Visakhapatnam, Meeting with the Executive Committee, at 5pm in the Public Library Conference Hall.
Brief Summary
Late Mallampalli Somasekhara Sarma who served in the Department of History and Archaeology, Andhra University, Waltair, Visakhapatnam was one of the pioneering professional historians of Andhradesa. He was a good epigraphist and unearthed many an inion scattered on the length and breadth of Telugu speaking country. He had fixed the chronology and genealogies of ruling dynasties from the Satavahanas to almost 15-16 centuries authoritatively on scientific lines, which is now being followed in the academic world. He had left behind a corpus of inions he collected laboriously and his personal collections of palm-leaf manus and articles unpublished. His published material is also scattered and almost unavailable for the scholars. The Committee requested the ICHR to assist them in digitizing the material available and to take up a project to bring out his contribution to the historiography of Andhradesa as a comprehensive work and to facilitate their extensive activities to take the historical knowledge to common man and to educate the student community in history. The Chairman appreciating the work of the Committee briefed them of the major functions of ICHR and stressed the need for giving training in the necessary interdisciplinary approaches in the historical research by holding orientation/training camps to train young scholars in epigraphy, numismatics, manuology, archival sciences, museology and to develop necessary language skills to take up research in ancient and medieval areas as most of the modern scholars are turning towards research in modern times for obvious limitations of their skills. He said ICHR is already holding workshops in 'Historical Methods' in various regions. He said ICHR could plan 21-day Orientation Courses at various states calling scholars of various universities in that state to give training to equip them in these techniques. He proposed that ICHR would extend its help to bring out the contributions of pioneering scholars in history from various regions to find their deserving place on the national academic map.
14-03-2015
A national seminar on 'Social, Cultural and Political Dynamics of Telangana State' organized by Itihasa Sankalana Samiti (Bharateeya), Hyderabad, in collaboration with the Department of History, Kakatiya University P.G. College, Hanamkonda.

Brief Summary

The Chairperson while delivering inaugural address at the Seminar called for a Comprehensive History of Telangana. Efforts should be made to record its history by setting facts straight and make it relevant to the contemporary world. He wanted the historians to come-up with wide ranging accounts of culture, traditions and their social and political aspects. In compiling history, one should take care in laying emphasis on facts in a scientific manner rather than focusing on controversial and contradictory arguments, he suggested. He opined that it is not mandatory that only those who acquired academic discipline should do research in history. He reminded the scholars that the pioneering historians who wrote and published historical works had no university degrees in History, but their works had become standard texts and reference books for the degree and post graduate students. Therefore, general intelligentsia with basic training in historical method could do original research. He said History is of the people; they have a right to know their history and also write history satisfying the basic norms and methods. He said that the history of this region was attempted by those scholars who did original research and published standard history books. He appealed that the people should develop a taste for historical studies and writings.
02-03-2015
2-4 March 2015, An international workshop organized by ICHR and AHRC and RCUK on "Cultural Heritage and Rapid Urbanisation in India" held at 2-4 March, 2015 at Maiden Hotel, 7, Sham Nath Marg, Civil lines, New Delhi.
Brief Summary
The international seminar was organized by the ICHR and RCUK under recently signed MoU by both the associations in which the experts from both countries participated to discuss the effects of rapid urbanisation harming the cultural heritage in India. The Chairperson in his opening remarks said that India is endowed with a rich experience dating back to at least to 3rd millennium BC in urban administration. But, the rapid urbanization in the past three decades is so alarming that special attention is required to preserve our cultural heritage. He remembered that even a hundred year old structures are taken care as heritage structures in the West and they try to retain their facades even when it was necessary to renovate the structure. Thus London remains London for several years to come. But, Indian cities change their faces in just five years. While modernising cities, the Governments are not taking necessary steps to retain the heritage structures. Each city has its own characteristics and personality. That should be respected, he pleaded. He also said that most of the Indian cities have great antiquity and also considered as holy kshetras since times unknown. Their sanctity also be respected in attempting modernization, he said. He welcomed the present effort under joint collaboration of RCUK and ICHR and expected that such endeavour should continue for the benefit of both countries and peoples.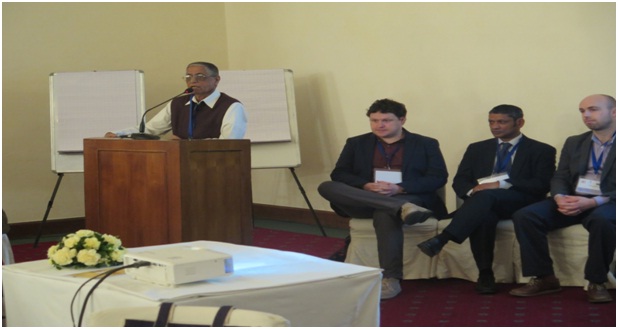 27-02-2015
ICHR signing MoU with The Embassy of Russian Federation in India for joint collaboration in historical research programmes. The meeting was held at Russian Embassy at 12.30 pm.
Brief Summary
The Chairperson attended a meeting with the Russian Embassy officials and invited Indian intellectuals on the occasion of signing an MoU with Mr Sergey Naryshkin who is also the Chairman of the Russian Historical Association and the Head of Organizational Committee for holding the 'Year of Literature in Russia' in 2015.
The Embassy of Russia in lndia invited the Chairperson to participate in the Round Table on the historical and cultural aspects of Russian-Indian Relations during the meeting of Mr Sergey Naryshkin with Indian intellectuals and scientists in the field of culture, history and art. During the meeting, the MoU between the ICHR and Russian History Association was signed.
25-02-2015
National Seminar on "Society, Culture and Historiography in India through the Ages", NREC College, Khurja Campus, U.P.
Brief Summary
On the occasion, the Chairperson had inaugurated the Association of Historical Studies and laid foundation stone to the NREC history Museum. During the seminar, he released the Journal of Humanities & Social Sciences, Vol XVI. In his address as the Chief Guest, he complemented the management and staff of the College which is more than a century old for keeping up the academic standards of the institution. The Department of History is well-known for its research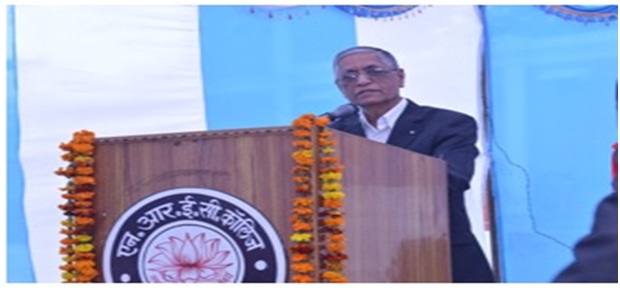 and academic progress in all aspects of historical studies.
20-02-2015
XXXV South Indian History Congress, Kakatiya University, Warangal (20-22 Feb 2015).
Brief Summary
The Chairperson presided over the Inaugural Function of the SIHC on 20th Feb 2015 on the campus of the Kakatiya University. He spoke on the historical significance of Warangal which served as the capital city for the Kakatiya rulers, a major dynasty of the medieval period, ruling all the Telugu speaking regions of Deccan and Coastal Andhra.
In the evening he delivered an endowment lecture in honorable memory of Prof B C Ray on "National Integration and Indian Culture – Contribution of South India" . He opined that history is rewritten when a scholar tries to revisit the past in search of a remedy for the present malady. Whenever a serious effort is made by a scholar or a group or team of scholars, a fierce resistance comes forth from those who had already formulated a theory on the topic in question. They expect that their theories should be accepted uncritically. If questioned, it becomes controversial and scientific temper among the contenders is lost in the milieu. Thus he deplored that every topic turns problematic. In 1947, the English withdrew their rule jeopardizing India. India was divided into three parts – a secular middle India with two Islamic Pakistans on either side. Such kind of partition of a country on communal lines followed by huge genocide was hitherto unknown to history. But during the last six decades and above after they became independent, it is quite evident, that the two Pakistans could not stay united for long despite the main parameter, religion, being common while India with all diversities could stay united as a democratic Republic surviving all adversaries from within and without. While Pakistan and Bangladesh could satisfy all parameters of a modern Nation State like, one language, one religion, a defined territory, government and sovereignty, technically India cannot satisfy the first two requirements which were in fact major considerations for partition. Basically, religion was the prime engine to mobilise communities to be identified as distinct nations. The language had become a marker of religious identity. None of these two engines could make these two cousins strong internally and gain a considerable image among the comity of nations. On the other hand, India cannot claim to be a homogenous community to acquire nation-hood but still it is recognized as a nation. It appears, its strength lies in its ability to streamline these diversities to a common good. Surprisingly, the majority population in India are secular by nature bound by time-honoured traditions whereas it is otherwise in its neighbourhood countries which are newly born nations based on religious identity. Bangladesh could, however, claim partial ethnic identity which has led to its formation. Whether India is a nation or a 'Nation-in-making' , has been discussed by several scholars from India and abroad basing their arguments on the Western theories like that of Herbert Resley's statistical and ethnographic research to categorise Indian society.
He explained certain issues related to India's unity, which has been a reality and tested and verified every now and then. He elaborated what has contributed to its unity and strength in the absence of the primary characteristics of a nation according to European concept? What factors keep it united? As some intellectuals argue, will Culture unite people of a country? If so, what are the characteristics or aspects of such a Culture which could create and establish firmly the feeling of oneness among the people of a vast country like India with varied geographical regions. How could these diverse geographical regions contribute to national integration? He attempted to address these issues in his endowment culture.
17-01-2015
Banaras Hindu University, 9th Annual Session of IASR Conference on 'Religion, Ritual And Archaeology' at Varanasi.
Brief Summary
Addressing the session said "historians did not study religious studies intently although it is an important aspect of our lives and a useful tool to understand our society and its past. India provides a great museum of world religions and numerous religious practices. Hindu religion in particular has several practices and several schools of thought. Hinduism acknowledges an individual's freedom of belief, but regulates the material life. Individual is given freedom to choose a path for his self-emancipation/evolution. Although there are several practices, the basis of all these is Sanatana Dharma. Although the practices superficially diversify us but the thought of Sanatana Dharma unifies Indians. Scholarly studies into the arts, religion and culture would enrich history of India in its varied facets".
09-01-2015
CP Ramaswami Iyer Institute of Research in Indology, Chennai. National seminar on "Popular Uprisings in India with Special Reference to Tamilnadu – 1750 to 1857 CE" sponsored by ICHR.
Brief Summary
I was taken around the photo exhibition on "popular uprisings in India" by Dr Nandita Krishna, the Director of the Institute. Later, inaugurated the seminar. While addressing the scholars at the seminar said that the seminar was titled very aptly as 'peoples' struggle against foreign aggression'. Further pointed out that right from the time the Europeans landed on the West coast in 15th Century to almost those times of the predominance of British rule, Indians have been fighting with great spirit both in the North and the South against alien rule. Europeans though had great naval power could not establish a good number of settlements on the West coast (of India). Great naval powers like the Dutch and the Portuguese also failed to establish their rule on the West coast. Even the English could not stretch throughout the West coast. The first English ship, Globe, had touched Musulipattam on the East coast. With all their might they had great difficulty in establishing their rule on Coromandel completely. The tribal chiefs of the region never succumbed to their power and almost retained their autonomy even during the matured Raj. Though the English emerged as the most powerful nation by twentieth century, they had to compromise with the situation leaving one-third of this vast country under the native rule. While native rulers could no more raise armed struggle against the British, people took up the struggle into their hands and forced the mighty British power to withdraw.
02-01-2015
Bengaluru, ICHR panel discussion on 'Regional/Vernacular literary sources for South Indian History' at the Southern Regional Centre of ICHR.
Brief Summary
Presided over the seminar. Prof. Rajan Gurukkal, Prof. Srinivas Paddar and Prof. P Hymavati were the resource persons. The topic of discussion was a vast subject area in itself and had to be dealt by specialists and linguists in the field. Elaborated the problems encountered by the scholars in this field by pointing out that all Indian languages have gone through several changes in course of time and that the present generation of Telugu people have to struggle to understand the literature of some 200 years ago. It was unfortunate that the literature of a few hundred years ago can only be understood now through an interpreter for most of the Telugu people of today and stressed the need of regional scholars in this field in interpreting the vernacular literature for writing regional History.
10-12-2014
Guwahati, Northeast Advisory Committee Meeting.
Brief Summary
The heads or their representatives of the history departments of universities of seven sister states have participated in this meeting and reviewed the activities of the NE regional centre of ICHR. I made a special request to the members to take interest and initiatives for undertaking the project of comprehensive history of the Northeast, which was already proposed, by the NE center some years ago. I also met the Director and some officials of the Assam State Archives and discussed on the ongoing project of digitizing the Archival records.The procedures for the construction of the Regional centre on the plot given by the University are discussed. A 7-day workshop on Research Methodology relevant to the history writing of North-Eastern states was proposed./p>
12-12-2014
Seminar on Education System in India, The University of Calicut, organized by the Vivekananda Research Centre, Trivandrum.
Brief Summary
The Seminar was conducted in the University of Calicut. The teachers of colleges and education activists and social workers attended it. Addressing the scholars in the seminar pointed out that most of the freedom fighters were very happy with the achievement of the independence and left the development of education system to the new government. They thought that the Indian government would develop education system keeping the culture of people in its mind. Pointed out that some of the scholar-freedom fighters had great vision of how education system should be in new India like Rabindranath Tagore, Madan Mohan Malaviya, Gandhi to name a few who unfortunately did not exercise power or influence in the formation of government's education policy. The politicians who were involved in formation of education system were educated in the West and were influenced by the Western ideologies. There was nothing wrong in that but they should have brought in a mix of Indian cultural values and traditional knowledge and western scientific knowledge into our education system. Many commissions were formed during post independence era. The first one was Radhakrishnan Commission, which gave proper recommendations to the Government but the recommendations did not come into practice. Sometime later, Kothari Commission came up with education system totally on western lines. The periodic commissions that followed after that did not concentrate on the education system but were mostly dealing with salaries and working conditions of teachers, number of model schools in a district or state etc. Further pointed out that in the past sixty years after independence Education and Health have become out of the reach of common man. There has been a great increase in Super Specialty hospitals, which are not affordable to common man. Similarly, educating the children is also getting more and more expensive. On the one hand we have upper middle class and middle class spending ridiculous amount of money on 'international' primary schools and on the other hand we have 80 percent of other Indians sending their children to other private schools and government schools imparting no quality education. Higher education has also degenerated as standards of education are very low in most of the Universities and that the students who graduate out of the Universities are finding it hard to get a job. Some students are opting to go to other countries for their higher education and it is costing India dearly. The government and universities need to bring teachers from other countries to train our teachers and raise the standards of our education system in our country. One well qualified teacher from outside India in each department (in a university) can change the texture of the department and raise the standards. Money spent in getting foreign teachers should not be a big issue as it is money spent wisely than spending double that amount on sending our students to foreign countries for education. Education should be kept out of the corporate sector. We are capable of being self-reliant in Education sector and appeal to the government and the people to trust in India's capability in providing good education to all Indian youth without any discrimination. Mass Education Program as suggested by Mahamahopadhyaya Dr Sivananda Murtyji in his book on 'Education System in India" suggests uniform system of education through standard government schools with all modern facilities and employing both native and foreign teaching staff. The curriculum will be designed adopting both Indian and western knowledge systems. If this plan is executed with commitment, India would emerge as knowledge society in twenty years. The present selective approach would continue the present maladies eternally.
05-12-2014
Delhi, Fossils National Workshop on "Documentation, Conservation and Preservation of Intangible Cultural Heritage of India – Problems and Perspectives, Karnataka Association Conference Hall, New Delhi.
Brief Summary
A three-day national workshop on 'Documentation, Conservation and Preservation of Intangible Cultural Heritage of India' was conducted with scholars demanding an immediate survey of Indian folklore and establishment of a National Folklore Academy for the conservation of pluralistic and diversified identity of Indian culture. Inaugurated the workshop and addressed the scholars and stressed the importance of preserving India's intangible cultural heritage through documentation for the future generations with emphasis on the fact that the history of remote past of India is hidden in the oral literature and folklore. Unless these sources are tapped with care, we might not be able to bridge the gaps in our history. Though they might not help us much in dating the events, they definitely provide valuable historical content.
23-11-2014
Hyderabad, 2nd Annual International Jashan-e-Khusrau "A Sufi festival for Universal Peace, Communal Harmony and National Integration."
Brief Summary
Addressing the inaugural function of the seminar at Hyderabad, spoke, "The emergence of nation states is of course a modern phenomena. The origin of nation states could be traced to the rise of Protestantism in Western Europe. These protests were mostly based on the question of religious hegemony of Roman Catholicism and a bibilical practice rather than the basic principles of Christianity. With the participation of kings and princes in the protest movements, the nation states had emerged. But as the governments have been changing their character from absolute monarchies to some form of democracies, the nation states have acquired political character. With modern electoral politics, following appeasement policies, problems to national integration became complex. Religion plays a pivotal role in building the character of an individual as an integral part of a family and community. But, Indian tradition says, one should rise above the religion, but still continue to revering and continuing his personal religion to achieve his ultimate goal. All religions with a degree of difference have this aspect in their philosophical content and thus, Islam has also given rise to the Sufism. Sufism has the guru-sishya tradition, which has been prevalent in India since times immemorial. In India, Sufi saints are revered across religious creeds. Promotion of this interaction among the communities based on Sufi liberal thought would help national integration in a multi religious country like India."
22-11-2014
Osmania University,Hyderabad, A national seminar on Labour migrations from India in commemoration of the centenary of "Komagata Maru" episode.
Brief Summary
Sponsored by the Ministry of Culture, GOI, ICHR organised this seminar in collaboration with the Dept of History, Osmania University, Hyderabad. Presided over the inaugural session. In my presidential remarks said that the main aim for conducting the seminar was to commemorate a sad and tragic event that happened to Indian emigrants in the Komagata Maru incident in Canada in 1914. He mentioned this incident as a symbolic event related to labour migrations. He further stated that though migrations take place for two reasons, namely, natural and compulsive situations for livelihood, their study is also crucial to understand why political movements take place and how cultures enrich in the long run despite the imminent sufferings.
14-11-2014
Kashi, National Seminar on Indian Historiography organised at the KasiVidyaPeeth, Varanasi.
Brief Summary
In the valedictory address, said, "Though we think that the present genre of history writing has started in the West about three centuries ago, in a different form or the other history writing could be traced from ancient times in India and other places. In ancient Indian literature right from Vedas to Kavyas and other texts in Sanskrit, Pali and other languages, we come across a lot of historical content. These sources are mostly analysed and interpreted for writing remote and recent past. The history books, which we are writing currently, will transform into historical sources for future generations. Every generation creates and also records history of their times and also of their past. Thus the past is very often visited by scholars. However, the historiographers have much to learn from the earlier sage-writers like Valmiki and Vyasa for their rendering contemporary history with utmost care and without prejudices."
07-11-2014
Jalandhar, Seminar on "Partition of India and Panjab", Lyallapur Khalsa Women's College, Jalandhar, Panjab
Brief Summary
Visited Jalandhar City in Punjab and inaugurated the Seminar on partition of India with special reference to Punjab. ICHR has given financial assistance to organize the seminar. In the inaugural speech, said, " the subject of the seminar is a sensitive one and it should be dealt with scientific temper. The issue of partition had resulted in a violent upsurge on both sides of the border. Some of them who have gone through such a trauma are still living and remember those days and the memories of those times are still fresh in their mind." The Sapta-Sindhu area in the north- western region of India had faced a number of invasions right from the Greek invasion in 4th century BC to 18th century AD, historically speaking. The people of this north-western region had greatly suffered due to these foreign invasions but they heroically resisted the invasions with great sacrifice while the people of south and also eastern India were not even aware of these barbaric attacks on India from the North-West. This land is pious because the Vedic literature has come to light in the Saraswati Valley. Its remote history could be traced back to Puranic times. Prajapati Kashyapa who is considered to have issued 84 lakh species to live in the world belonged to this region. Danava Kings like Hiranyakashyapa, Prahlada and others ruled from this region. Cunningham, father of Indian archaeology, had identified many such sites in this Northwestern region. Yuan Chwang who visited India in 7th century had given clear deions of these sites that are mentioned in the Puranas. Partition divided this land on communal basis and created a wedge between the two communities of people. These sensitive issues should be treated with great care so that the studies should contribute to develop harmony and peace. Such works should enable common man to take lessons from the past and to prevent any emotional upsurges further. When we are criticizing the individuals who were at the helm of affairs at the time of partition and judging them responsible for the catastrophe, we should also try to understand the circumstances in which they were placed in those times. The partition should only be taken as political division and measures should be undertaken to promote friendship through cultural relations among the people.
27-10-2014
Kannur University, Kannur, Kerala, ICHR Workshop on Methodology of History
Brief Summary
Presided over the inaugural function of the ICHR workshop on Historical Methodology for the benefit of the postgraduate students, research scholars and junior teachers. It is necessary to develop skills for conducting research in History. There is a need for developing language skills relevant to the topic of research. Unless the scholars develop capabilities to read and understand the primary sources, their research would not be considered a standard work. In the modern times, he felt that the present generation of scholars are only taking up regional studies and selecting micro topics for their research. Though the micro topics are welcome to give us detailed information on an event or an individual, it should enrich the macro history of the nation. Otherwise the need for micro study might lose its significance. ICHR workshops would benefit the students of remote area with the modern developments in research methods and history writing.
25-10-2014
Advisory Committee meeting of the Southern Regional Centre of ICHR, Bengaluru.
Brief Summary
The Advisory committee meeting of the Southern Regional Centre of ICHR was held on 25th of October 2014 in Bengaluru. The centre's activities for the past six months have been reviewed and the centre and its staff have turned out a good work. A good number of seminars and workshops had been organised. The library of the centre has acquired reference books. It has also published books for popular reading and the publication of a few monographs was also undertaken. The project on Vijayanagara inions is progressing satisfactorily.
"I returned home a day after assuming charge (28 June 2014) in ICHR. I received communication to attend a meeting in the Ministry of Culture with regard to plan some programs to commemorate the centenary of 'Komagata Maru' (a Japanese ship hired for the migration of Indian labour from Punjab in 1914). I attended this meeting along with the Member Secretary at the Ministry of Culture presided by the Hon'ble Minister. We proposed to hold a seminar in this connection to discuss the problems relating to the migrating labour which the Ministry had approved to sponsor. Later, I came home. Unfortunately, I fell down from the stairs and got a hairline fracture in my backbone for which I was totally confined to bed for more than two months. All regular committee meetings and Council meeting had to be held in my absence though some urgent matters were decided through phone and Internet during the period. I could attend office just for a day in the last week of September accompanied by my wife, Sharada, depending on her for physical support. The doctor said this 'sort of dependence' might continue for some more months. In a lighter vein, he said, 'say, for a year'. " ------- Y Sudershan Rao.
28-06-2014
I am grateful to the staff of ICHR for welcoming me so warmly today and I appeal to you to treat me as a member of your family so that we can work together as one team in the pursuit of the objectives of ICHR. In fact, ICHR has made seminal contribution for about four decades to Indian historiography. World known Indian historians headed the ICHR till now. I may be too small a person, in my stature and scholarship to make any big claims. I would respectfully say that I owe to PujyaSri, Mahamahopadhyaya, Dr. K Sivananda Murtyji for what all I am today. I thank the new Government headed by Shri Narendra Modiji for choosing me for this position.
I feel, in the first two decades, considerable work has been done in ancient and medieval areas and in the recent years the research in modern and regional history have come up in large scale. Mostly, I think, the researches directly sponsored and conducted by the ICHR are mostly guided by the modern schools of historiography of the West.
Though much work has been done in these areas, we have to pay enough attention to the ancient and medieval India and particularly to its remote past. India has the great heritage of civil intellectual and spiritual achievements from times immemorial, having no parallel in the world. In the sixty years of our independence, we are yet to evolve a methodology to study our remote past with Indian perspective. Secondly, we have yet to understand the nuances of ancient knowledge and the methods and techniques which our ancients employed to bring the essence of knowledge to the door steps of each household.
Take the examples of Puranas of different kinds which were popularised through various performing arts and folklore. We should remember on this occasion, the great services rendered by Sage Vyasa who popularised the Puranas through his disciple Sage Suta at Naimisharanya, UP. The modern research findings are confined only to the libraries and research centers and unfortunately, the 'new knowledge' is out of reach of common man. The ICHR has to play a catalyst role in taking to people their history.
This mammoth work cannot be possible without the dedicated services of the staff members. According to our traditional knowledge, none of us is all alone in this world and that ours is not a lone planet as is oftenly commented in the Western intellectual circles. Our ancient Indian historical tradition says that we have a number of Lokas and Bhuvanas where infinite number of Jivas exist and are passing through various stages of evolution-physical, intellectual and spiritual. So, passing on this fund of historical knowledge to the coming generations becomes an onerous responsibility of the ICHR, in my view.
The ICHR will encourage all types of studies on various historical problems without any bias and discrimination so as to enrich our understanding of Indian history in its multi-faceted grandeur.I thank you all once again for accepting me into your fold.
28-06-2014
Prof Y Sudershan Rao, former Head of the Department of History and Tourism Management and formerly Dean of Social Sciences, Kakatiya University, Warangal, Telangana state.He was accompanied by his wife, Smt Sharada. Prof Gopinath Ravindran, Member Secretary and officers and staff of ICHR congratulated him on this occasion.
He deems it a great honour and expresses his deep sense of gratitude to the Hon'ble Prime Minister, Shri Narendra Bhai Modiji and the Hon'ble Minister (HRD), Smt Smriti Zubin Iraniji for having chosen him to this position.
With the Graceful blessings of his Master, Satguru Sivananda Murtyji, (Bhimunipatnam, AP), he assumed the onerous responsibility as the Chairperson of ICHR, today, i.e., 28 June 2014 (forenoon)
The Chairperson met with the officers who are heading various sections in the office and got acquainted with their respective duties and functions in an informal meeting. After listening to their individual presentations on their work, he expressed his happiness and satisfaction. He further complimented them that they were young, energetic, dynamic, well-informed, well-trained and for their matured thinking.
He also spoke on the functioning of the ICHR and what people -academics, teachers, research scholars, professional organisations and more significantly the common man- expect from this prestigious body which should strive to keep their morale high. He appealed to them to be creative in finding ways and means to take the essence of historical knowledge to the reach of the common man through the mass-communicating technology.
Later he went round the different departments and noted the physical facilities - available/ required- for the better functioning of the ICHR.
24-11-2014
Visited a Vedic Research Centre, I-SERVE, at Alkapuri, Hyderabad on their invitation and got acquainted with their work on Vedic mathematics and sciences. I was also informed about their ongoing project on the History of Chemistry from ancient times to 18th century found their work on various fields of Vedic sciences appreciable
11-11-2014
Delhi, ICHR Abul Kalam Azad memorial lecture by Prof.Balagangadhara, Professor at the Ghent University, Belgium.
Brief Summary
Audio of Prof Balagangadhara's speechwith the comments of Prof Rajan Gurukkul and remarks of the Chairperson can be found in the website of ICHR; http://ichr.ac.in/PHOTO_GALLERY/gallery.html..
08-11-2014
8 - 11 November, regular committee meetings and Council meeting were held along with Advisory committee meetings of the two major ICHR projects: on 'the Dictionary of Martyrs in India' Freedom Struggle and the Documents on Economic History of British Rule in India, 1858-1947.
27-12-2014
Attended the inaugural function of the 75th Platinum Jubilee Session of Indian History Congress conducted at Jawaharlal Nehru University, New Delhi.